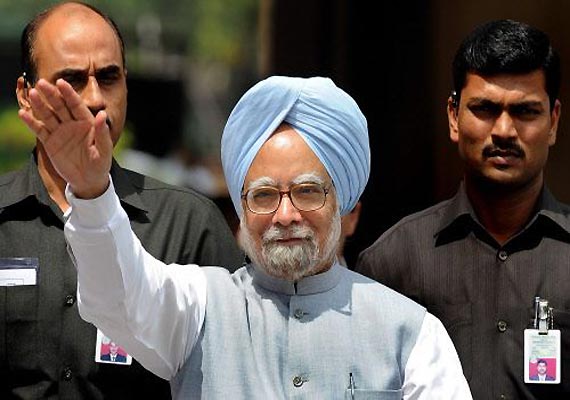 New Delhi, Mar 19: The UPA government today had a smooth sailing in Lok Sabha with key ally Trinamool Congress and BSP walking out and SP withdrawing its amendments to the President's address, notwithstanding the hype surrounding their opposition on issues like NCTC(National Counter Terrorism Centre).
The government breathed easy as just before the Opposition-sponsored amendments were put to vote, Trinamool Congress members left the House drawing protests from Left parties who questioned how Union ministers could walk out at the time of vote.
BSP leader Dara Singh Chauhan protested the infringment of states' rights by the Centre before his party staged a walk out.
However, Samajwadi Party expressed satisfaction over Prime Minister Manmohan Singh's reply and withdrew its admendment on National Counter Terrorism Centre (NCTC) and voted in favour of the government on the amendments moved by BJP, BJD and the Left.
The BJP's amendment on NCTC moved by Leader of the Opposition Sushma Swaraj found favour with 141 members, while 226 MPs voted against it with one member abstaining.  
The numbers for the government prompted Swaraj to claim that the UPA was in a minority.
The amendment on NCTC moved by Basudeb Acharya (CPM) got support of 146 members while 227 opposed it.  
SP leader Shailendra Kumar said since the Prime Minister has given an assurance that the interests of the states will be kept in mind, his party was withdrawing its amendments.  
But, he said, leaders of political parties and Chief Ministers should be consulted on the sensitive issue.  
Attacking the government on the issue of federalism, Swaraj said NCTC was a "fresh example" of the "arrogant" style of functioning of the government.
She also questioned how an intelligence agency (Intelligence Bureau under which NCTC will function) can also work as an investigation agency.
She also read out excerpts from a letter written by West Bengal Chief Minister TC chief Mamata Banerjee to the Prime Minister on NCTC to attack the government.  
Swaraj said a disputed issue like NCTC should not have formed part of the President's Address. She suggested that the Address shuld have said that no further decision will be taken on the proposed organisation till states were taken on board.  
Former Railway Minister Dinesh Trivedi entered the House just before the Prime Minister rose to speak and occupied a seat in the backrows. Later he shifted to the first row.  Before the vote, he moved to his seat in the middle rows.