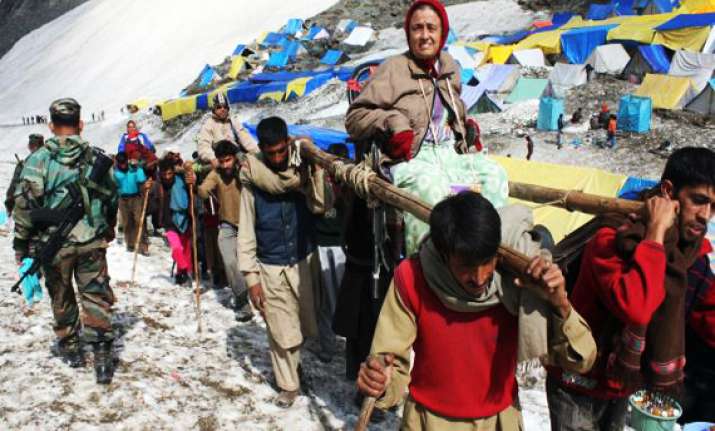 Srinagar, Jun 28:
Two more Amarnath pilgrims died due to cardiac arrest even as the number of pilgrims who paid obeisance at the 3,880 metre high holy cave shrine in south Kashmir Himalayas crossed 60,000.
Body of an unidentified 55-year-old pilgrim was recovered from Pissu top along the traditional Pahalgam-cave route in Anantnag district this morning, a police spokesman said today.
Meanwhile, Subash Chand (40), a resident of Punjab, breathed his last at the Baltal base camp in Ganderbal district late yesterday.
With this, the death toll in the Amarnath pilgrimage has risen to eight.
So far 61,200 pilgrims have visited the cave shrine and offered their prayers, the spokesman said.  Among them, 22,810 pilgrims paid their obeisance at the cave shrine yesterday, he said.
Meanwhile, another batch of 2,693 pilgrims today left the Jammu base camp for 13,500 feet high Amarnath shrine.
The pilgrims comprising 1,793 men, 490 women, 150 children and 260 sadhus left in a cavalcade of 92 vehicles from Bhagwati Nagar base camp in Jammu at around 0500 hours for the shrine, a police official said.
With today's batch, as many as 12,465 pilgrims have left Jammu in five batches for their onward journey to cave shrine of Amarnath.