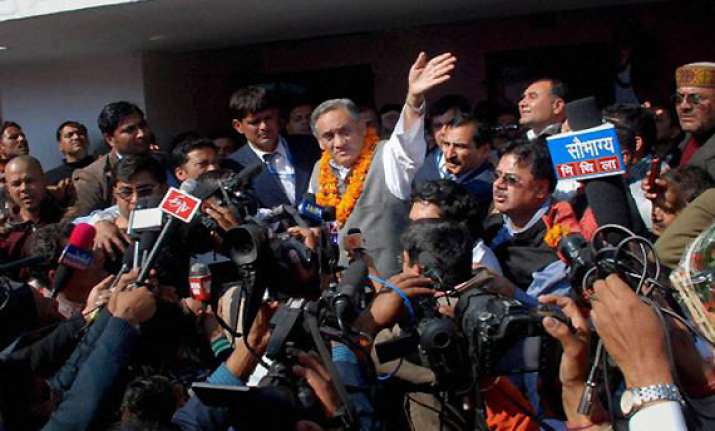 Dehradun, Apr 1:
Uttarakhand chief minsiter Vijay Bahuguna today described state Congress chief Harak Singh Rawat, who was a strong contender for chief minsitership, as  a "twelfth man" and said he would not be inducted now.
Speaking to mediapersons here, Bahuguna said, eleven members of a team are important and the twelfth man is generally considered an extra.
Bahuguna today distributed portfolios to his ministers.
The chief minsiter has kept Home, Housing, Excise, Power, PWD, Information, Forest, Higher Education, Suraaj, Corruption Eradication and several other portfolios with him.
Finance Minister Ms Indira Hridayesh will have Commercial Tax, Stamp and registration, entertainment tax, Parliamentary Affirs, and some other portfolios with her.
Revenue Minister Yashpal Arya will also look after Land Management, Disaster Management, Irrigation, Flood Control and some other departments.
Health Minister Surendra Singh Negi will also look after Family Welfare, Ayush, Science and Technology, Bio-Technology, Ex-Servicemen Welfare and other departments.
Food and Civil Supplies Minister Pritam Singh will look after  Rural Development and Panchayati Raj portfolios.
Ms Amrita Rawat will look after Tourism, culture, Women Empowerment, Child Development and Alternative Energy departments.
Dinesh Agrawal will look after Planning, IT,Sports and Youth Welfare.
Mantri Prasad Naithani will look after Agriculture, School Education, Adult Education and some other minor portfolios.
Pritam Singh Panwar will look after Urban Development and Urban employment, Fisheries, Animal Husbandry, Jail, Home Guards and Civil Defence.
Harish Chandra Durgapal will look after Labour, employment, small industries, Khadi and village industries and milk development portfolios.
Surendra Rakesh will look after Transport and Social Welfare.