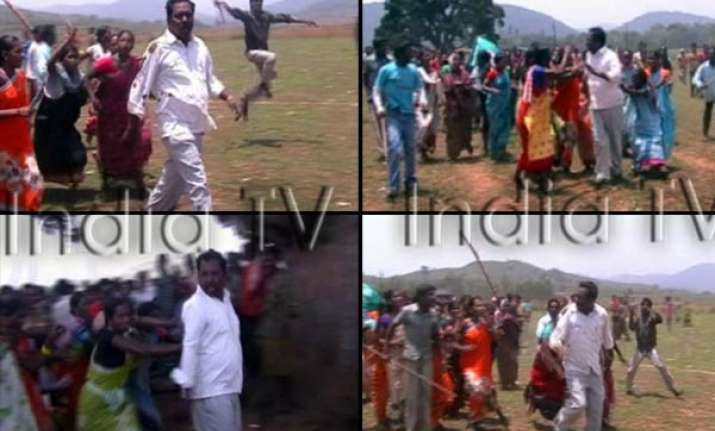 Vishakhapatnam, May 11: Tribal women chased and beat up Araku Valley TDP MLA Siveru Soma in Saray village under Dumbriguda mandal on Tuesday, reports India TV reporter Raghuram Prasad.

The MLA had to run for his life. Dumbriguda mandal president Korra Dhanna Rao and his followers were  also severely beaten by an irate crowd.

Two persons suffered minor injuries in the attack. The MLA's vehicle was brunt by tribals.

The tribals were opposing China clay mining project in the agency.

The AP Pollution Control Board earlier cancelled the public hearing slated for Tuesday sensing trouble from the locals.

The government has accorded permission to mine China clay in an area of 15.6 hectares under survey No 122.

The Collector J Shyamala Rao had asked the Paderu RDO  Prasada Rao to enquire and submit a report to him about opposition to the mining from tribals.

The Telugu Desam Party  MLA S Soma, mandal president Korra Dhana Rao and other leaders went to the village to Saray village to seek the opinion of the local tribals When the people assembled there, Dhanna Rao and his followers tried to speak in favour of the project.

The irate crowd pounced and beat up Dhanna Rao and his brother-in-law.

Though they tried to attack the MLA, he escaped with the help of local CPM leader Mrs Killo Surendra The tribals hurled dung and mud at him several times and tore his shirt. When he picked up pace he was chased and beaten, particularly by the women.

The HRF demanded th at the  State government must respect the wishes of the tribals and  immediately cancel the lease granted to the Mutchika Bhoodevi firm for mining.

General secretary of  HRF Mr V S Krishna said the government made mockery of the law and gave permission for mining.

Telugu Desam strongly condemned the attack on the party MLA. G Madugula ZTPc member Mrs Mate Ramanamma said Telugu Desam strongly opposed the China clay mining in the agency.