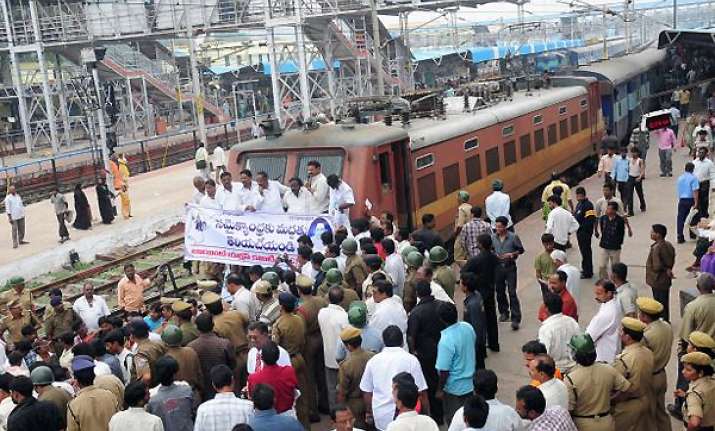 Hyderabad, Oct 16: Train services continued to remain affected in Telangana region of Andhra Pradesh today on day two of the 'rail roko' agitation in support of demand for statehood to the region even as some MPs and MLAs arrested in connection with agitation yesterday were remanded to judicial custody today.

A group of pro-Telangana activists who squatted on rail tracks at Gandhipuram in Khammam district and organised cultural programmes on rail tracks were taken into preventive custody.

There were reports of protesters staging demonstrations near railway stations and attempting to disrupt rail services by squatting on rail tracks in Nalgonda, Mahabubnagar, Nizambad and Warangal districts but police foiled their plans and detained many of them.

Activists also resorted to demonstrations in different Telangana districts including Hyderabad demanding release of their leaders and others who were arrested yesterday.

Police thwarted attempts of ABVP activists to storm the Ministers Quarters here and took into custody around 10 members of the organisation.

The passengers continued to suffer with South Central Railways (SCR) cancelling as many 124 passengers trains while diverting, rescheduling some other trains passing through different sections in Telangana region.

The otherwise busy Nampally, Secunderabad and Kachiguda railway stations here wore a deserted look.

Additional DGP (Railways) VSK Kaumudi told PTI the situation is peaceful. The rail roko agitation is on. But we are doing our job (providing security to trains,tracks and rail property), he said.

Meanwhile, MPs and MLAs belonging to TRS and ruling Congress who were arrested yesterday along with hundreds of pro-Telangana agitators were remanded to judicial custody today.

Among the leaders who were sent to judicial custody included Medak MP Vijay Shanti, Karimnagar MP Ponnam Prabhakar and former minister Jeevan Reddy, Siddipet MLA Harish Rao, Warangal MP S Rajaiah and Congress MLA T Rajaiah.

Andhra Pradesh Police had yesterday arrested eight MPs and at least four MLAs besides hundreds of statehood supporters and booked them under various provisions of Railway Protection Act and Indian Penal Code.

Telangana-Joint Action Committee, consisting of some political parties and people's organisations, had called for a rail blockade in Telangana from October 15 to 17 to press for statehood to the region.