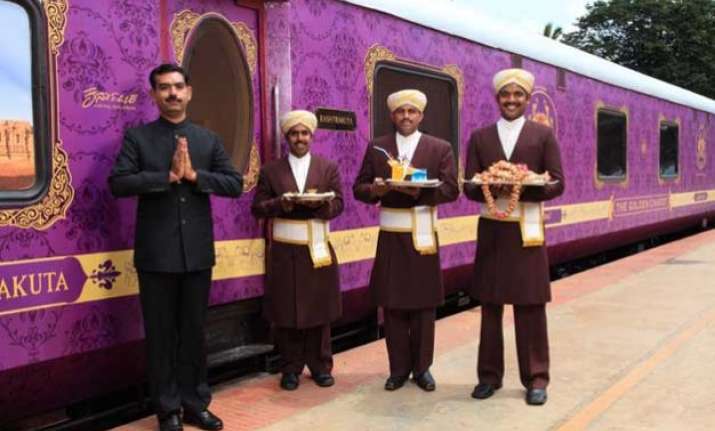 Holiday season is just around the corner and what's better than Indian railways to help you explore the mainland. From Kashmir to Kanyakumari, India offers a rich garland of diversity, culture, tradition which can be best experienced by travelling through luxury trains..
Indian railway operates a number of luxury trains which cater to various tourist circuits throughout India. These luxurious trains, including Palaces On Wheels,Maharaja Express, Fairy Queen, Heritage on Wheels, The Indian, are bound to give a life time experience of true Indian royalty.
1. Palaces On Wheels
The "Palace on Wheels" is a luxury tourist train. It was launched by the Indian Railways association with Rajasthan Tourism Development Corporation to promote tourism in Rajasthan.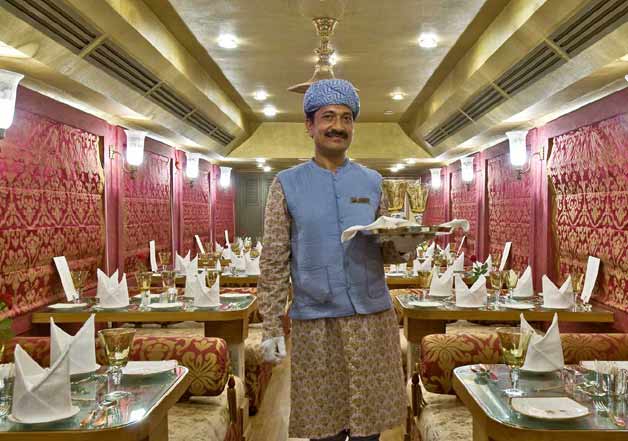 Palace On Wheels is the best Royal Indian Train and world's 4th best luxury train. The cruise train has 14 salons named after provinces of Rajasthan, two Restaurant named as Maharaja Restaurant and Maharani Restaurant, There are 14 coaches in the train. Each is named after former Rajput states and matches the aesthetics and interiors of the royal past: Alwar, Bharatpur, Bikaner, Bundi, Dholpur, Dungargarh, Jaisalmer, Jaipur, Jhalawar, Jodhpur, Kishangarh, Kota, Sirohi and Udaipur. Each coach has four cabins with other world class facilities like exotic bar, Spa, Live TV, internet connectivity.
Tour: 50 Thousand to 5 lakh per person per Journey
Palace on Wheels: 8 Days to 13 Days
Destinations Covered: Delhi-Jaipur- Udaipur- Swai Madhopur- Chittorgarh- Jaisalmer- Jodhpur- Bharatpur- Agra-Delhi.
2. Maharajas Express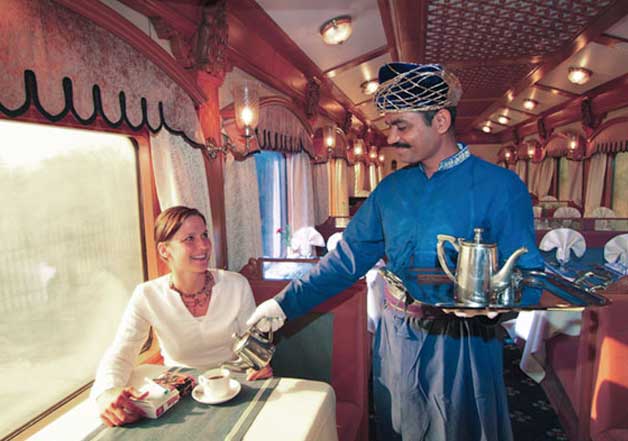 The Maharajas Express is a joint venture of IRCTC and it is the most expensive luxury train in the world. It runs on 5 circuits covering more than 12 destinations across North-West and Central India, mainly centred on Rajasthan between the months of October to April.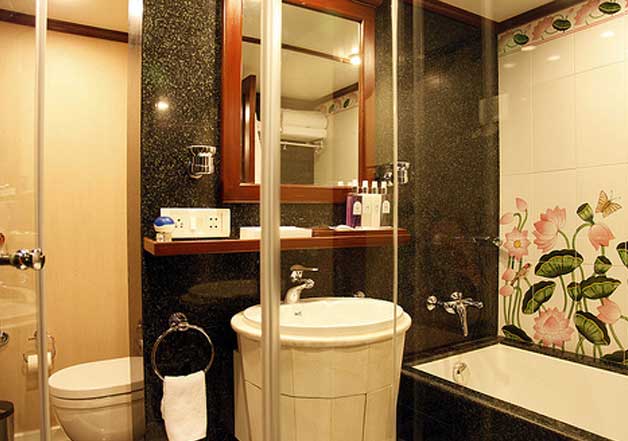 It is equipped with world class facilities including large dining, bar, lounge, generator, LCD TVs, direct dial phone, internet, individual temperature controls and in suite bathroom as well. The train also has a lounge called the Rajah Club with a private bar, two dining cars and a dedicated bar car.
Tour: 2.75 to 10 lakh per person per Journey
Princely India: 8 Days / 7 Nights -
Destinations Covered: Mumbai – Vadodara – Udaipur – Jodhpur – Bikaner – Jaipur – Ranthambore – Agra – Delhi
3. The Golden Chariot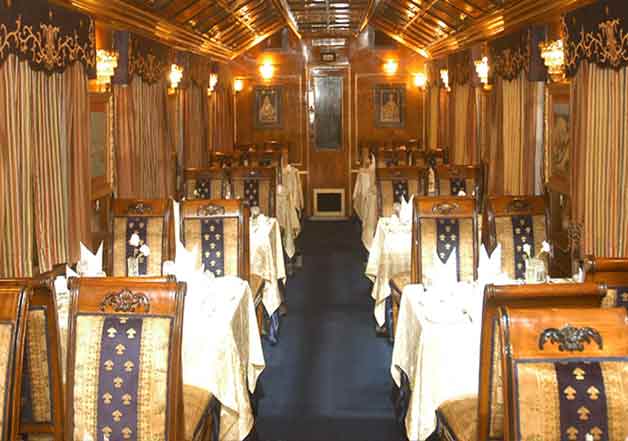 The Golden Chariot is a luxury tourist train started by the KSTDC to connect most popular tourist spots in the state of Karnataka and Goa. The royal itinerary has 19 coaches' colored purple and gold with two restaurants, a lounge bar, conference room, and gym & spa facilities.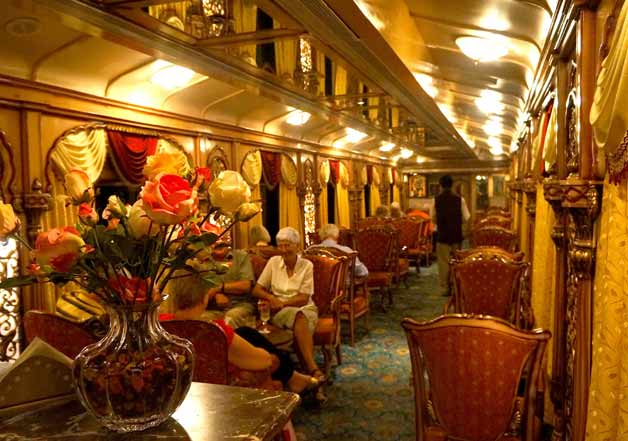 This luxurious wagon has two restaurants, a lounge bar, and conference, gym and spa facilities. It has onboard internet connectivity via an USB-stick, and satellite antennae providing live television service in the cabins.
Tour: 25 to 50 Thousand per person per Journey
Pride of the South: 7 Nights / 8 Days
Destinations Covered: Bangalore – Mysore – Hampi – Belur – Kabini – Badami – Goa – Bangalore