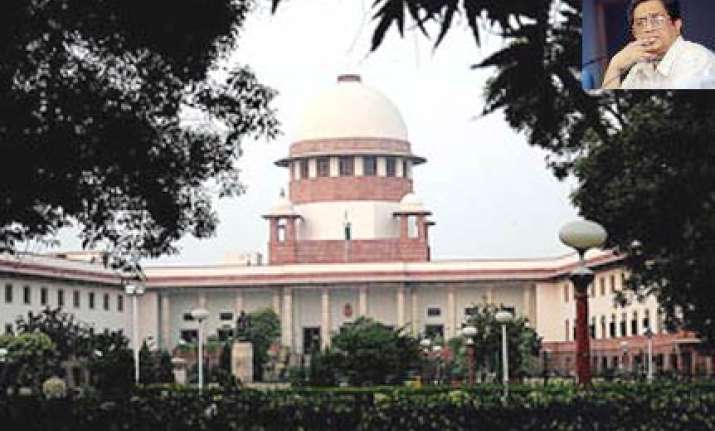 New Delhi, Nov 30: The Supreme Court today virtually questioned the tenability of Chief Vigilance Commissioner P J Thomas supervising the CBI's investigations into the 2G spectrum scandal as he himself was Telecom Seceratary at the relevant point of time.
A bench of justices G S Singhvi and Ashok Kumar Ganguly pointed out that since the CBI functions under the over all supervision of the CVC it would be difficult for Thomas to objectively monitor the investigations.
"CBI is functioning under the CVC, at that time he(Thomas) was functioning as Telecom Secretary. It would be difficult for him to objectively monitor."
At this stage, Solicitor General Gopal Subramanium assured the court that he would respond to the court's query after seeking necessary instruction from the government.
However, senior counsel K K Venugopal appearing for the CBI, citing the Central Vigilance Act, submitted that there was a provision for allowing one of the Vigilance Commissioner to take over the functions of the CVC.
This is whenever a contingency arises wherein it becomes difficult for the incumbent (CVC) to function for some reason or the other.
Advocate Prashant Bhushan appearing for the Centre for Public Interest Litigation (CPIL), which has brought the matter to the court, submitted that he has no objection to such a proposal as one of the Vigilance Commissioner, R Shreekumar, a former DGP from Karnataka "enjoys a good reputation".
But he insisted that apart from the Vigilance Commissioner monitoring the case, the court should appoint another officer with unimpeachable integrity to ensure a fair supervision of the investigation.
Earlier, during the hearing, the bench asked the government whether it has any objection to the court monitoring the investigation in the multi crore scandal.
Both Subramanium and Venugopal submitted that they have no objection to a court monitored investigation. PTI