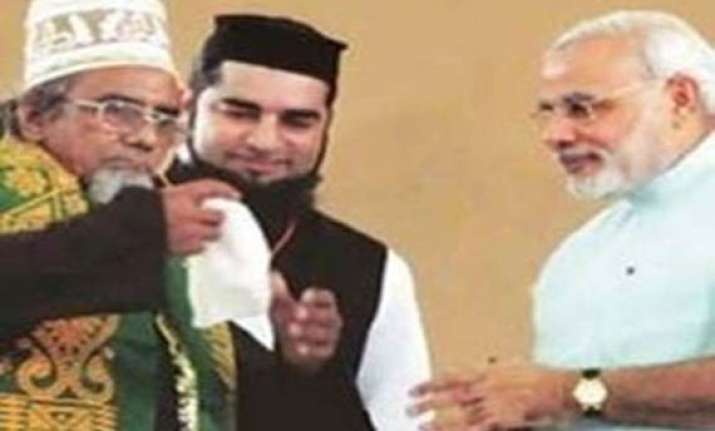 Ahmedabad, Sept 19: The chief of the Sufi Muslim community Sayed Imam Shahi Saiyed on Sunday offered a cap to Gujarat chief minister Narendra Modi, but the latter decline to wear the cap. 

Modi however agreed to wear a shawl offered by Sayed Imam.'I did not want to argue, it was pointless but he agreed to take the shawl. I am pained. He has been wearing caps and turbans of each community but declined a Muslim one', Saiyed said.


On Monday, Saiyed was on different news channels saying this was an insult to his Sufi Muslim community.

Sayed Imam Shahi Saiyed said, he was asked by some official from the Gujarat government to attend the fast. "It was difficult for us to go to the dais, as we were stopped at first and then allowed to go to the chief minister".

"I had bought a Rs 20 cap and a Rs 70 shawl to offer to Modi. When I went up the dais to greet him, I told him that I had brought a cap for him. But he refused saying he doesn't wear a cap. I offered him the shawl, which he agreed to take", said Saiyed.
Sayed Imam Shahi Saiyed, a cleric of a small Dargah in Pirana village on the outskirts of the city (he lives in Savali village of Dakor taluka), had gone up to stage to greet the Chief Minister, at Gujarat University Convention hall here.

He offered Modi a skull cap, but Modi politely refused to wear it, asking him to offer a shawl instead. The imam did so, and Modi was seen accepting it.

"Modi's refusal to accept the cap is not my insult but an insult to Islam," Saiyed told reporters today.  "I had come to Ahmedabad after hearing about the Sadbhavna Mission fast and went to the stage to felicitate Modi.

"When I offered him the cap he told me that he would not wear it. He might have thought that wearing a skull cap will dent his image...," the cleric said.

The BJP, however, said it was a non-issue. "Narendra Modi has clearly said that his policy is not of appeasement of a section of society unlike other parties, but our approach is development for all and treating everyone as equal," party spokesperson Vijay Rupani said.

"Thousands of members of the minority community have come here, but nobody insisted that Modi put on a skull cap. This is a non-issue which is being turned into a big one by our opponents," Rupani said. PTI