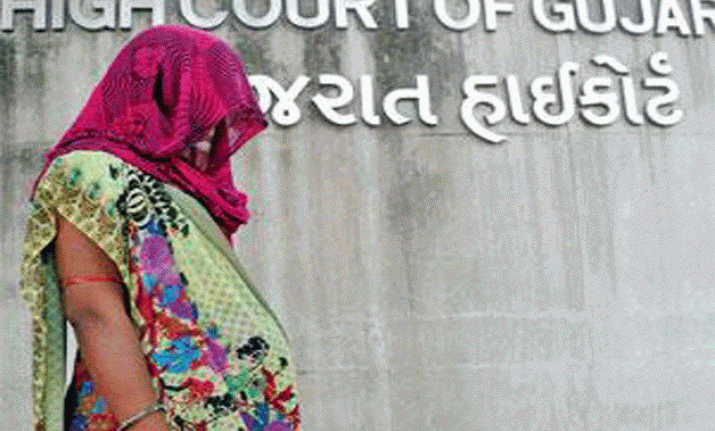 The story is not just disturbing but agonizing. She was gang-raped for months by seven men. She was assaulted several times. She was impregnated and forced to change religion. She was made to eat pregnant rabbit, taken to occultist to lose memory and made to drink a glass of milk laced with dead flies and blood.
And she was made to undergo all this, only because her mother objected on killing a pigeon.
Added to all this, now when she is 28-weeks pregnant, she has been asked by the state's high court to not to terminate her pregnancy and 'deliver the child bravely'.
This harrowing tale is of a 24-year old who hails from Surat, Gujarat and is a mother of two.
Agreed that the High Court had a reason behind passing such a judgment that it did not wish to risk the life of the lady however, the psychological torture and ostracization at the hands of the unforgiving society, which she'll have to go through, can also not be denied.
It couldn't have been easy for the judge also to tell her to go through the pregnancy tenure. In the 38-page order, the Gujarat High Court judge, Justice JB Pardiwala wrote, " I am conscious of the fact that to carry a child in the womb after an act of rape is not only extremely traumatic for her but also humiliating, frightening and psychologically devastating. In Indian society, she becomes an object of scorn and ostracization."
The victim is now left with no choice but to carry a child in her womb all the time whom she would continuously loathe.
Her story –
It was on 13th July last year that she was abducted by seven men from her home in Botad district of Gujarat and was taken to several places and raped and beaten brutally several times.
Followed by a series of rape by several men, she got pregnant and was then forced to change her religion to Muslim that too by signing a paper on which it was written that she did this at her own discretion and that she married a Muslim as she was in love with him.
Again, when she protested she was tortured. She was forced to wear Muslim attire. She was forced to eat meat. And at one point of time, knowing that she has become pregnant, the rapists even plotted to kill her.
When her protests still continued and she incessantly asked for her family, she was taken to an occultist and made to drink milk laced with dead butterflies and blood spitted from the cut tongue of the occultist. She was forced to drink this milk and was asked to come the next day also so that she may lose her memory permanently and may forget her family members especially her children.
Once, while the group was wandering from village to village, they stopped at a nearby village where the arrangements of their stay were made by the 'Sarpanch' (Head) of the village.
On getting an opportunity, even he tried to rape her. He went into the room where she was captivated by the culprits and asked her to take off all her clothes. Under force, she did the same but after she consistently begged the Sarpanch to be merciful, she was spared.
In the same village, luck favoured her a few months later when two clans of that village had a brawl in which all the villagers went. This was the time when she took advantage of the opportunity and first informed her mother through a phone that she found that she would be fleeing from there and will hide in the bushes of the nearby jungle.
Luckily, the family rescued her on time and she was brought back home, but her ill-fate continued. When she returned, she found that she was already in the seventh month of pregnancy. Much expected, she did not wish to retain the loathed seed of a heinous crime but was refrained to do so by magistrate of the first class court of Ahmedabad.
By the time her appeal reached the Gujarat High Court, she was in the 28th week of her pregnancy.
The judge, already moved by her heart-rending tale, had no choice but to order that the pregnancy could not be terminated as it could prove the victim's life in danger. He referred Atharva Veda, West German Constitutional Code and a judgment of 1994 and had to make the sufferer understand that she will have to bear the child.
In the order, he wrote, "I am conscious of the fact that it is easy for a judge to say so in his judgment because it is ultimately the applicant who will have to face hard days ahead. Yet, howsoever, one may find the law, it remains the law and one has to respect it."
He mentioned that she will have to understand that termination at this stage will put her own life in peril.
Although, he ordered that necessary arrangements be made for her and the delivery and that her family may also be closely watched yet what the lady will have to suffer it all has simply no words.
He also said that the child may be protected after the birth, leaving a gruesome question open to the society that how will such a lady show motherhood to a child who is born out of utter disgust and will continue to remain so.