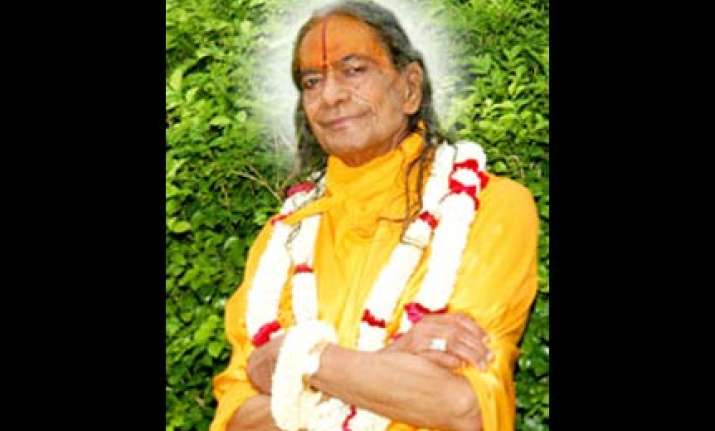 Sant Kripalu Maharaj, whose ashram witnessed a stampede killing 65 people, fled from the complex two hours after the tragedy and is untraceable, a district official said in Pratapgarh on Friday. Circle officer Ikpal Singh said that Maharaj fled some two hours after the stampede and is yet to be traced.
Police sources said that the 88-year-old Maharaj, who heads the Radha Madhav society which has centres abroad, had earlier faced charges of indecent assault and rape in 1997 in Nagpur.
In 2007, a woman from Trinidad had also levelled similiar charges against him. He was also accused of attempts to illegally acquire a farmer's land in Barsana, Mathura where he has another ashram.  However, the sources said the charges have not been proved against him.
The sprawling ashram, about 60 kms from Pratapgarh, wore a deserted look on Friday even as a heavy police contingent was deployed there.
Some 50 families searching for their missing relatives have visited the ashram since yesterday. Though the ashram has been kept out of bounds by the police, families have been trickling there looking for their near and dear ones.  Meanwhile, the administration has made preparations for the last rites of the victims at various ghats in the city.
District Magistrate Chob Singh Verma said government officials ave been deputed to oversee the cremation of the deceased. The situation is peaceful, he said.
An FIR has been filed against the organisers and managers of the function at the ashram at the Kunda police station. No one has been specifically named in the case.
There have been conflicting versions with regard to the arrangements made for the 'shradh' of Maharaj's wife with police saying that the ashram management had not informed authorities about the gathering of thousands of people.
While Superintendent of Police Mahesh Misra said no permission had been sought from district authorities, Rajneesh Puri of the ashram claimed that the administration had been informed about it on February 25 itself but no arrangements were made for it.
Dr K D Singh, a doctor in charge of Kripalu Maharaj hospital, stirred a controversy on Friday saying that all those who died in the stampede were not invited by the Ashram, and the Ashram was not responsible for the stampede. Meanwhile an FIR has been lodged against the manager and another official of the Ashram in connection with the stampede.
The Prime Minister Dr Manmohan Singh has announced Rs 2 lakh assistance each to the next of kin of those killed in the stampede. Rs 50,000 assistance will be given to those who are seriously injured.