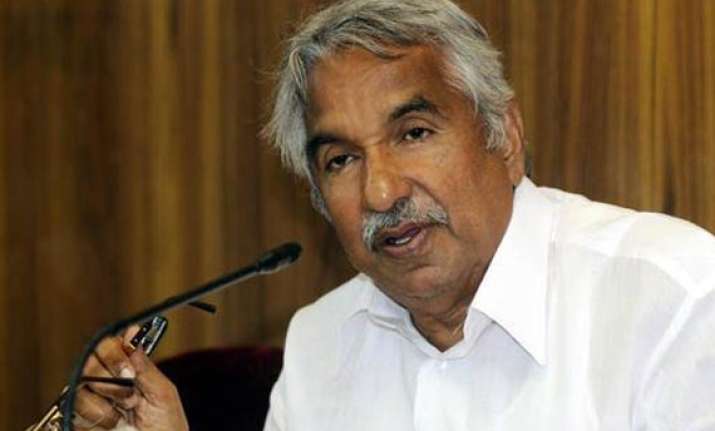 Chennai, Dec 19: Locked in a bitter row with Tamil Nadu on the Mullaperiar Dam issue, Kerala Chief Minister Oommen Chandy today maintained that the safety of the century-old dam was a "concern" for his state and that a new structure was a solution "where both sides win."

"A new dam is the only solution by which continued supply of water to Tamil Nadu can be ensured and the safety concerns of Kerala could be addressed. It is a solution where both sides win. It ensures water for Tamil Nadu and safety for Kerala," he said in newspaper advertisements.

 Chandy said he had no doubt that the issue could be solved amicably and held that the two governments had the "responsibility" to ensure that the issue was not allowed to escalate and create misunderstanding between the people of the two states.

"We value the relations of our people. Unfortunately there is misinformation which has led to reactions. We want no incident to cast a shadow on our relationship," he said, seeking to strike a chord with the people of Tamil Nadu.

Chandy said he will do "everything possible" to protect the dignity and safety of Tamils in Kerala and said that he was sure the Tamil Nadu government was equally committed to providing safety to Malayalees in the state. 

"I appeal to all to maintain peace and restraint and refrain from (committing) emotional acts that affect peace and harmony," he said as tensions mount in the two states over the dam issue, which has led to attacks on Tamilians and Keralites.

Holding that Tamil Nadu and Kerala were dependent on each other, he said students and professionals among others from the states lived in either of these areas peacefully and harmoniously.

Chandy's appeal comes as an ostensible counter to an attempt to reach out to the people of Kerala by Tamil Nadu Chief Minister J Jayalalithaa, who had issued advertisements seeking to assure the people that the dam was safe.

However, it did not go down well with the Supreme Court.

A five-judge Constitution bench had castigated Tamil Nadu for misusing the apex court's earlier orders and oral observations through the newspaper advertisements.