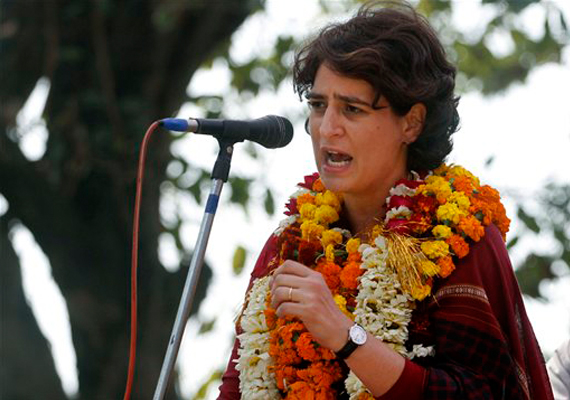 Rae Bareli, Feb 11: Exhorting voters to change the "negative politics" prevalent in UP for the past 22 years, Congress star campaigner Priyanka Gandhi today said leaders should get the message that they will not get support if they do no work for progress.

Addressing an election meeting in Ahiyar area under Saraini Vidhan Sabha seat for Congress candidate Ashok Singh, Gandhi said, "Voters will have to give a serious thought and decide on changing 22 years of negative politics". 

Asserting that the vote should be for their future, she said, "Leaders should also know that if they do not work for development and progress of the people, people would not vote them ... it would be only then that politics would change". 

Emphasising that she had family ties with Rae Bareli and Amethi and not a political one, Gandhi said that she has not come here seeking votes but to wake up the people as otherwise communal forces would continue to "mislead and play with the future of people".

Development is your right but politics in UP has come to such a low that leaders consider it as some kind of "gratitude", she said, adding non-Congress parties are "befooling" the people in the name of caste and religion. 

By diverting the attention of the people, they are developing themselves, she said asking people to choose a government which strengthens democracy and develops UP. 

Referring to central government providing funds for development, she said there had been no dearth of funds but instead of letting them reach the people, the "government of Uttar Pradesh used it for its own use".  "Farmers here did not get fertilisers and people failed to get power....it was corruption and anarchy which was encouraged," she charged.