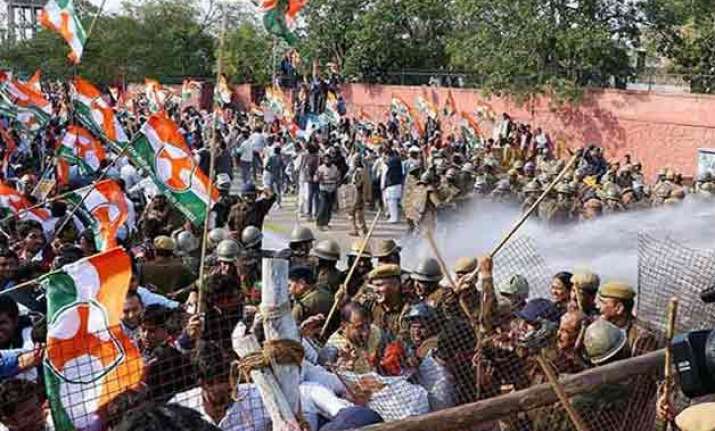 New Delhi: Delhi Police today used water cannons and resorted to mild lathicharge to stop the Congress workers and leaders protesting against Land Bill outside Parliament. Senior Congress leaders Jairam Ramesh, Raj Babbar, Randeep Surjewala and Youth Congress's Amrinder Singh Raja Brar led the March that started on Friday from Bhatta-Parsaul village in Uttar Pradesh's Greater Noida district.
Thousands of Youth Congress workers were raising anti-government slogans like 'Kisan Virodhi Narendra Modi' and were marching towards Parliament when the police stopped them using mild force.
The Land Bill, an amendment to the Right to Fair Compensation and Transparency in Land Acquisition, Rehabilitation and Resettlement Act, 2013 passed by erstwhile Congress led government, has been passed by Lok Sabha and will soon be presented in Rajya Sabha for approval.
Congress leaders Jairam Ramesh, who was among the protesters, said,"(Our) fight will go on, both in the Parliament and outside against the amendments. We will keep fighting against it."
 
Babbar expressed surprise at the government's move to "do away" with the consent clause in the bill.
 
"We are completely against the amendments. In (proposed) law, farmers don't have the right to take decision regarding their own land. Even if I take a mere pen from you, I will ask you. Then how come, a farmer, for whom land is his mother, is being asked to hand it over to someone else (without consent)?" he questioned.
 
Surjewala said the agitation launched by Congress along with farmers will "unmask the Modi-led Centre's 'anti-farmer' stand".
 
"This is India Youth Congress's (IYC) rally from Bhatta-Parsaul to Parliament. Modi's black law will disappear. "BJP's anti-farmer face will be unmasked. Both the Congress and farmers will win," he said.