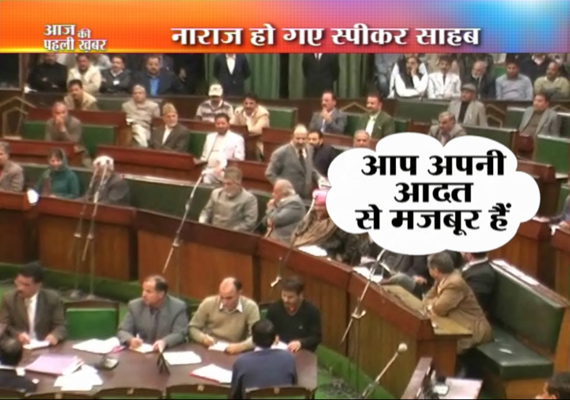 Jammu, Feb 26 : Opposition PDP, which had been pressing for the past two days for a debate in the Assembly over corruption in high places in the state, today a staged walkout from the House after a discussion on the issue. 

"The only aim of PDP to disrupt the Assembly proceedings for two consecutive days and demanding discussion on corruption was only to poison relations between Congress and NC and try to fish in troubled waters", Chief Minister Omar Abdullah told the House this evening. 

Omar alleged PDP had circulated rumours and published concocted stories regarding the rotational Chief Minister for quite some time to create a divide between NC and Congress.

PDP targetted Omar for "double standards" in awarding punishment only to Congress ministers—Peerzada Mohmmad Sayeed who was divested of Education portfolio and G M Saroori who was sacked as Road and Buildings minister while NC ministers have not been touched at all despiste notices of highest anti-graft panel State Accountability Commission (SAC) against them.

"If the Chief Minsiter divested Peerzada of Education portfolio and scaked Saroori (both Cong ministers), he should apply the same yardstick for the NC Ministers against whom notices have been issued", PDP leader Muzaffar Hussain Baig said.

He called for institutional reforms to eradicate corruption from the society and asked government to take strict measures for its eliminating the problem at all levels.
Baig suggested commissions like State Accountability, State Vigilance Organization should be strengthed and vested with statutory powers so that these institutions would deal effectively with corrupt elements.
Baig said legislators are accountable to the people and they should make collective efforts to deal with this issue. 
He said the opposition was not against any individual but wants to help the government eradicate corruption. He also wanted a high-powered committee to deal with the corruption cases.
Baig also sought the reports of all the inquires conducted by the SVO and other agencies against various politicians and bureaucrats besides other government functionaries.
He also pin-pointed certain irregularities committed in some departments and sought a proper probe into them.
As Baig was speaking, he had verbal duel with Finance Minister A R Rather first over naming his son in a smatcard scam and later with Speaker M A Lone.
After arguements and counter argurments, Baig, along with PDP members, staged a walkout from the House. 
"I was well within the time of allotted to my party. The Speaker was speaking like a NC man rather than a Speaker", Baig told reporters here.
"We demand that the Finance Minister should also be divested of his ministry as was done in case of Congress ministers by the Chief Minister", he said.  CPI-M MLA M Y Tarigami called for joint efforts to eradicate corruption from its roots.
Participating in a debate on the issue of corruption in the Assembly, Tarigami urged for further strengthening the investigation institutions in JK.
He said besides politicians, bureaucracy should also be brought under the ambit of State Accountability Commission. 
Accountability Commission and State Vigilance Commission must have own independent investigation agencies which must be above purview of Government, he said. 
MLA Chaman Lal Gupta also sought stringent measures to curb the corruption from the society. He said government should create effective mechanism to make the official machinery accountable.
JKNPP member Harshdev Singh suggested that the government should introduce code of conduct for ministers and bureaucrats to discourage corrupt practices.
Congress MLA Mohammad Sharief Niaz described the corruption as "a chronic disease" and called for collective efforts to deal with it.