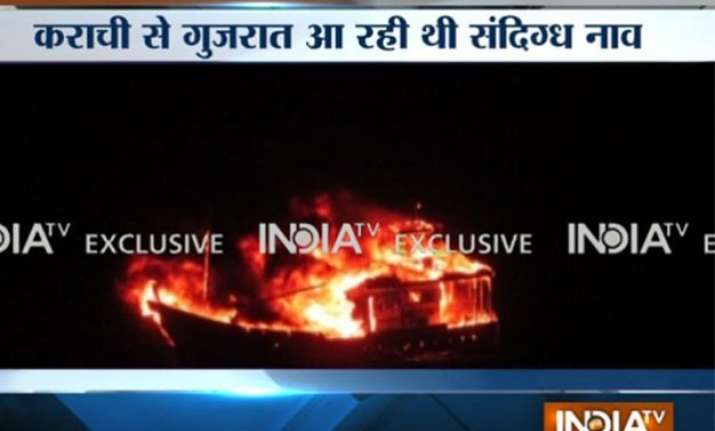 Preventing a major possible terror attack, Indian Coast Guard intercepted a suspicious fishing boat loaded with explosives from Pakistan in Arabian Sea near Indo-Pak maritime boundary, on the early morning of January 1, 2015.
The suspicious-boat, carrying 4 people on board, was chased by Coast Guards for more than an hour, during which exchange of fire is reported between the two sides.
After a hot pursuit when the operation was on its verge, the crew on board set the boat on fire, resulting in immediate sinking of the ship and disappearance of the 'people-on-board'.
Here are ten interesting facts that summarized the whole incident. ..
1. According to Defense Ministry, a fishing boat from KetiBunder near Karachi was reported to be planning some illegitimate operation in the Arabian Sea.
2. Sensing the seriousness of the information, a Coast Guard Dornier aircraft was immediately guided to undertake a coordinated operation to locate the suspicious boat from Pakistan.
3. On the midnight of December 31, the Coast Guard on patrol intercepted the unlit boat, when it was positioned at 365 km west-south west off Porbandar.
4. When Indian Coast Guard was approaching towards the suspicious fishing boat, it increased the speed to escape. The boat did not stopped even after warnings issued by Indian Cargo for the investigation; instead it sped away from the Indian maritime border.
5. The cat-mice chase continued for almost an hour after which India Coast Guard ship fired warning shots that brought the suspicious boat to halt.
6. As per Defense Ministry statement, four persons were spotted on the deck of suspicious boat. They gave no heed to the statuary warnings by Coast Guard Ship and instead hid themselves below the deck compartments. Subsequently, the crew set the boat on fire which resulted in a major explosion on the boat.
7. The boat burnt and sunk immediately in the same position while persons on board could not be located owing to bad weather and darkness.
8. Noticeably, the same act of infiltration in Indian boundaries was witnessed in 2008 when terrorist from Pakistan landed in Mumbai via sea route from Karachi, in a boat. And probably the intentions were crueler than last time, when the terror attack killed nearly 162 people.  
9. From past several months, Indian Intelligence, Coast Guard and other security agencies are on high alert citing regular threat inputs regarding Terror attacks.
10. Luckily, owing to strict vigil and coordinated operation by Coast Guard, the terror plan got foiled this time, unless we had a bad start to the year 2015.
But, the real question arises here is "How long we are going to take such infiltrations/ ceasefire violations/ terror attacks from the Pakistan?
Watch Video...