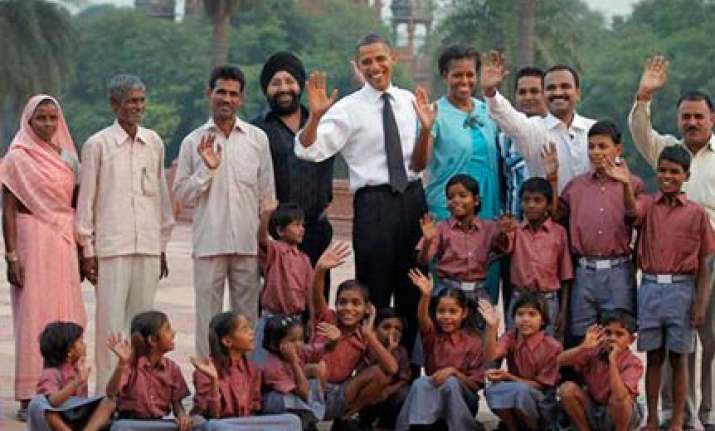 Mumbai, Nov 7 (PTI) Ahead of his meeting with Prime Minister Manmohan Singh during which Afghanistan situation is expected to come up, US President Barack Obama today hailed India's reconstruction efforts in the war-torn nation amid his assertion that a "stable Afghanistan is achievable".
He reiterated that the US will start withdrawing its troops from Afghanistan from next year but made it clear that all the American forces will not be pulled out immediately as such a step would depend on the situation on the ground.
'India's investment in the development of Afghanistan is appreciated... I do think that there are lessons that India has to show to not just countries like Afghanistan but countries in sub-Saharan Africa," Obama said during an interaction with students of St Xavier's College here.
Citing the example of India's achievements in agriculture sector, he said such experiments could be replicated in rural Afghanistan and even if farm produce in that country increased by 20 per cent it would go a long way in helping the nation.
While talking about India's positive role in Afghanistan, the US President underlined that all the countries of the region, including Pakistan, have to share the responsibility of bringing about stability in that nation.
'Pakistan has to be a partner in this process (of bringing about stability in Afghanistan). In fact, all countries of the region need to be partners in this process and the US welcomes them. We don't think that we can do this alone," he said, asserting that "a stable Afghanistan is achievable".
His comments came on the eve of his meeting with Singh when the two leaders would be exchanging notes on the situation in Afghanistan.
India has invested 1.3 billion US dollars in Afghanistan and is undertaking a number of developmental and reconstruction projects there.
Obama was asked whether his decision to withdraw forces from Afghanistan from next year reflected acknowledgment that the US was not winning the war.
When we went in seven years ago, Kabul was intact but rest of the country was deteriorating and we have been largely able to correct that. But, we don't want to be in the same situation seven years from now," he said.
He reiterated the decision to pull out troops from Afghanistan from July 20111 but said complete pullout would depend on "military issues and politics".
Disagreeing with comparison of Afghanistan campaign with that of Iraq campaign, Obama said institutions in Afghanistan had not developed completely and civil service and police forces needed to be strengthened further bef they can take charge.