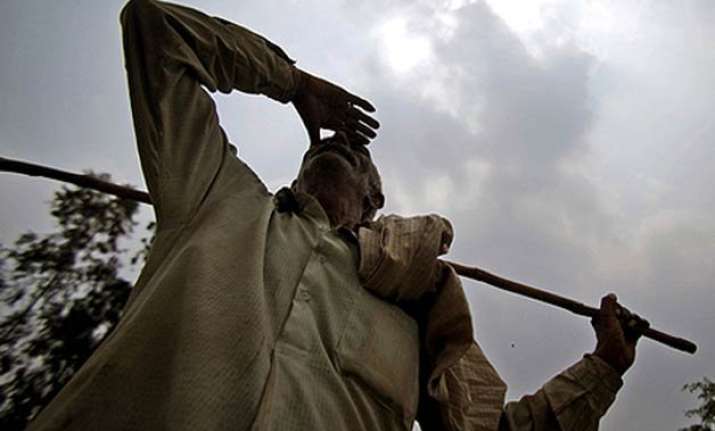 New Delhi: Farmers may forget the adverse effect El Nino brought this year with heavy untimely rainfall as independent weather forecaster Skymet has predicted that the country will witness normal monsoon this year. The latest prediction has brought some relief to the government as well as farmers who incur heavy crop loss due to due to untimely rain and thunderstorm.
Skymet said that it expects 102% (with error margin of 4%) rains during the monsoon season (June to September), which is within the 96%-104% normal range. The agency released its data one week before the release of India Meteorological Department's (IMD) first long range forecast.
Skymet release said, "The monsoon onset is expected to be early, around May 27, and fairly strong. Pre-monsoon rain will also be strong across the country. Unseasonal rain will continue well into May."
The agency also gave positive predictions for North India saying Punjab, Haryana and west Uttar Pradesh are expected to receive good monsoon rain.
This is the first prediction on the 2015 rainy season by an Indian agency.
International agencies had earlier predicted that El Nino conditions will continue through summer and autumn saying the situation will adversely affect on the monsoon.
An El Nino, abnormal heating up of east and central equatorial Pacific waters, causes change in wind patterns and also the Indian monsoon. However, in some El Nino years, such as 2006 and 1997, the monsoon has been normal.
Skymet CEO Jatin Singh said, "We do not think El Nino will impact the monsoon this year. That's because the El Nino is expected to peak before June and would be in the devolving phase during the rainy season."
Singh added that the probability of two successive drought years in India was very low, having been recorded only thrice in the past. Last year, the monsoon was at 88% of the long period range. IMD categorises a shortfall of more than 105 as deficient or informally as a drought year.
Skymet, in its last year's forecast in April, had predicted 94% rains and later revised the figure to 91% in June. However, IMD predicted a 95% rain forecast in April and revised it down to 93% in June.
For this year, Skymet has given a 49% chance of a normal monsoon (96%-104% of average) and a 25% probability of above normal rains (105%-110%). The chances of below normal rains (90%-95%) are seen at 16% while the odds of a drought are a mere 2%.
The agency said that it expects good rains in June and July at 107% and 104% respectively. The data released by the forecaster puts 99% rain in August and 96% in September.
The official rain forecast by IMD is still awaited and will put a stamp on the Skymet's forecast but the early data has brought some cheer for the farmers who have suffered heavy losses this year because of unseasonal rain and hailstorms. The monsoons last year were not any good either.
The monsoon, which supplies over 80% of India's annual rainfall, is crucial for the country's economy. It affects farm output thus affecting food inflation and overall economic growth of the country.