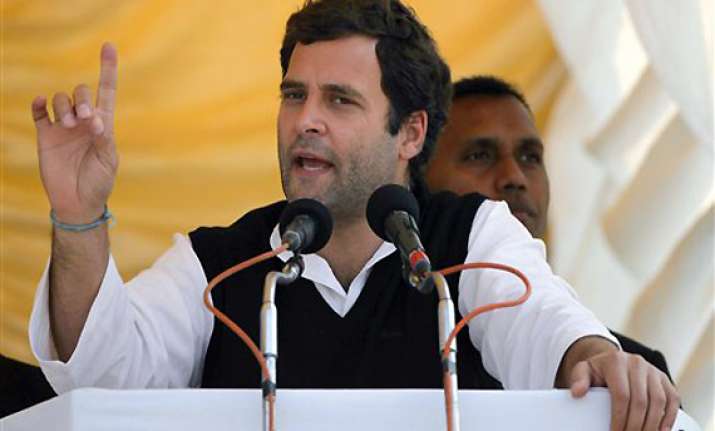 Sant Kabirnagar (UP), Feb 4: Putting an end to the speculation of a post-poll alliance with Samajwadi Party in Uttar Pradesh, Congress leader Rahul Gandhi today said his party will have "no truck" with any party.

"The chief minister in Uttar Pradesh is going to be from the Congress (after the Assembly polls).... we are not going to have truck with any other party," Rahul said at an election meeting in Mehdawal area here. 

"We will have no alliance with any other party after the elections ... we will have an alliance with the people and your voice will reach Lucknow and your money would reach to you," Rahul said, exuding confidence of returning to power after a long gap of almost 22 years.

"You believed in my grandmother ... you believed in my father. Now believe me," the Congress general secretary said adding that Congress is going to form the government in Uttar Pradesh.

Rahul said that a Congress government was also essential for the bright future of Uttar Pradesh as it works not for any particular caste or religion but for the whole society.  Charging the political opponents of making false promises, he said that there is a kind of a race among them over it.

"They will promise you whatever you want to hear ... they will also change the colour of the sky if you want to hear that," Rahul said, adding that there was however no truth in their promises.

Had there been any truth in it the state of affairs would not have been so bad in the state, Rahul said.

UP has a total 403 seats and Rahul Gandhi is leading the campaign for Mission UP 2012 with the aim of bringing the Congress to power in the crucial state where it is in political wilderness for the last 22 years.

Congress has left 45 seats to Ajit Singh's RLD which reached an alliance last year. The seats for RLD have been given in Singh's stronghold of western Uttar Pradesh.