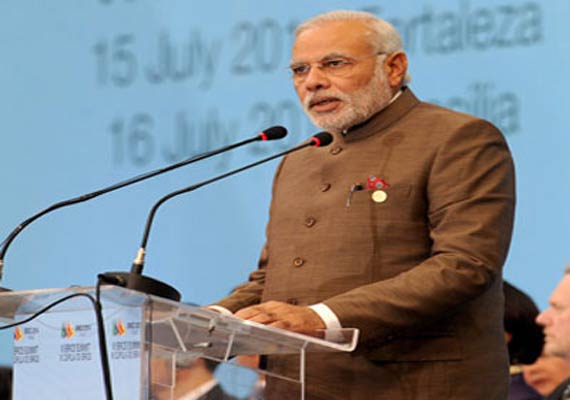 New Delhi: Prime Minister Narendra Modi is becoming something of a global leader.
PM Narendra Modi is now all set to address Nepal's parliament on August 4 during his two-day visit, thus becoming the first foreign leader to do so after democracy was restored in 1990.
Modi's address will come at a time when Nepal is marching towards drafting a new constitution that the country has been struggling to get for seven years.
A meeting of the ruling Nepali Congress on Thursday discussed Modi's August 4-5 trip.
"Prime Minister Modi will visit Nepal on August 3 and 4, the first visit to be paid by any Indian Prime Minister after 1997," Foreign Minister Mahendra Pandey said.
Prime Minister Modi, who is arriving in Nepal at the invitation of Prime Minister Sushil Koirala, will "address the Constituent Assembly, which also functions as Nepal's Parliament," Pandey told PTI after a cabinet meeting today.
Modi would address the Nepalese Parliament at a time when Nepal is engaged in writing a new Constitution that would institutionalize the achievements of the People's Movement of 2006 that restored democratic rights and abolished monarchy.
In 1997, then Prime Minister I K Gujral had visited Nepal. The last Indian Prime Minister to visit Nepal was A B Vajpayee in 2002 for a SAARC summit.
Modi is also scheduled to offer prayer at the Pashupatinath temple. He will visit the temple on Monday (August 4) of the month of Shrawan as per the Hindu calendar, which is regarded as holy occasion for the Hindus.  
Authorities at the Pashupatinath temple is currently engaged in preparation for Modi's visit.
"We are making necessary preparations including cleaning the temple and its surrounding areas for the visit," said Govinda Tandon, chief of Pashupati Area Development Trust, that manages the affairs of the temple.
"We are eagerly waiting for Modi's arrival here and we hope that India will announce some assistance for the renovation and preservation of the temple area," he told PTI.
Embassy of India here had promised to build a Dharamshala in the Pashupatinath temple premises and due to various reasons the work could not move ahead though the foundation of the structure was laid some 12 years ago, he said.
"We hope the construction will resume as Prime Minister of India has attached so much importance to the temple and we are also expecting for India's help for renovation and preservation of the temple premises," he added.