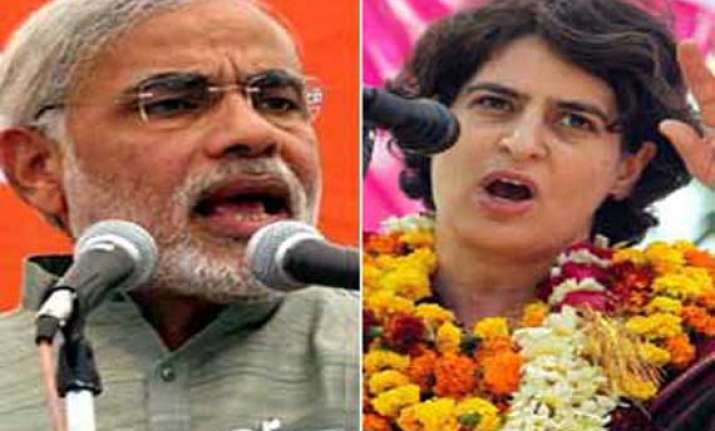 New Delhi: For the first time, the BJP's prime ministerial candidate Narendra Modi,  attacked Priyanka Gandhi directly for her "arrogance."  
She was unflinching in her reply,  vowing that Amethi "ka ek ek booth se jawaab aayega (each polling booth will exact revenge".)  
Accusing the BJP nominee of indulging in 'low level' politics, Priyanka said that people of Amethi will never forgive him.
In a statement, she said, they have insulted my martyred father on the soil of Amethi. People of Amethi will never forgive them for this act. Workers in Amethi will reply to their low-level politics. There will be reply from each of the booths.
This is not the first time when Priyanka Gandhi has hit out at Modi, "I am Rajiv Gandhi's daughter," was Priyanka Gandhi terse reply to purported comments by Modi that he considers her as his daughter.
Earlier during an election rally in support of BJP candidate Smriti Irani, Modi accused Congress of practicing politics of 'arrogance' and said Rajiv Gandhi, when he was Congress General Secretary, had once publicly 'abused' and 'humiliated' the then Andhra Pradesh Chief Minister T Anjaiah at airport.
Earlier in the day, Modi took a swipe at Priyanka Gandhi for Smriti Irani "who" comment, saying this was a reflection of "arrogance" and asserted that she was his "younger sister" and "representative" who knows much more about Amethi than the entire Gandhi family.
Apparently agitated at Priyanka's remark, the BJP's prime ministerial candidate said he had chosen Smriti for Amethi to tend this constituency which is the "most backward" despite being represented by the Gandhi family for 40 years.
Amethi was the constituency of  Prime Minister Rajiv Gandhi who was assassinated in 1991.  His son, Rahul, older than Priyanka by a year, has represented it in parliament since he entered politics in 2004.