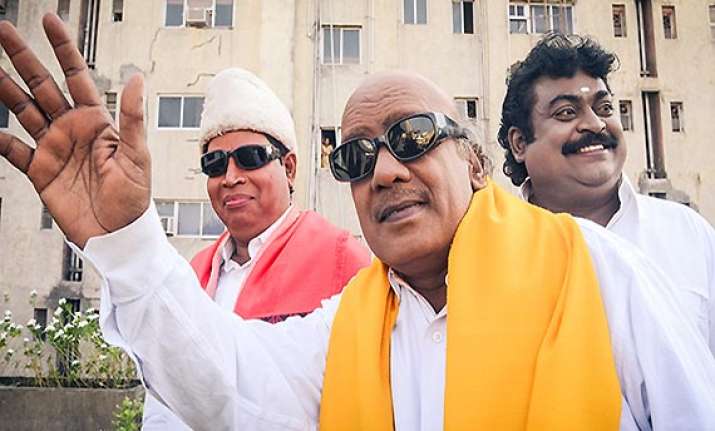 Chennai: Adopting various ingenious strategies to attract crowds to rallies, political parties in Tamil Nadu are roping in look-alikes of leaders like M G Ramachandran, Jayalalithaa and M Karunanidhi to connect with the audience and add a dash of colour to the poll scene.
Donning colourful robes the stalwarts were famous for and with a rich make-up, these artistes come live under the arc lights, perform song sequences, skits or deliver crisp dialogues loaded with the "punch element," to enthral the crowd.
These look-alikes also perform the role of communicators to the electorate for the political party that has hired them.
The performances happen before the start of a political party's public meeting or an election rally.  
"Artistes not only retain audience-interest, but also deliver the much sought after political message subtly," Robo Satish, a mimicry artiste who coordinates several look-alike professionals, told PTI.
"The MGR look-alike is the most popular and much demanded personality," he said.
In AIADMK rallies, especially in rural and semi-urban regions, "MGR" appears without fail to cheer the electorate.  
Thiagarajan, who has been performing as MGR for over 25 years, said songs like "Naan Aanayitaal" and "Ulagam Piranthathu Enakkaga," enthrall the audience although the songs were nearly half a century old.
"Such songs are tweaked to convey the political message as well," he said.
Also, appearances of "Jayalalithaa Mallika" a look-alike of Chief Minister Jayalalithaa in AIADMK rallies enlivens party supporters while at DMK meetings, it is Salem Ramanathan, a Karunanidhi double who cheers the gatherings.