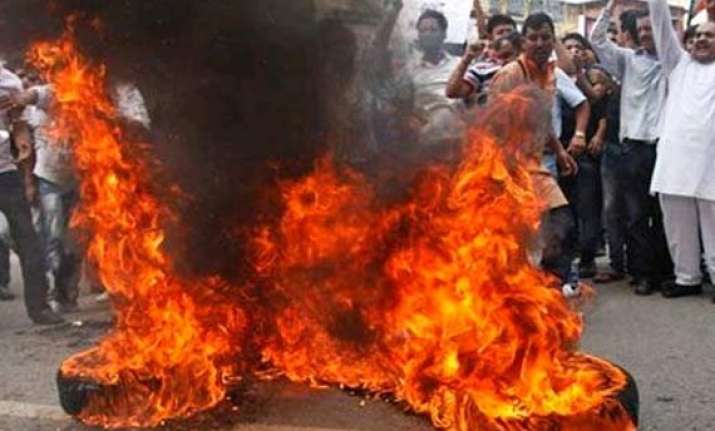 Jammu: Jammu and Kashmir National Panthers Party today held anti-Pakistan protests over shelling from across the border and demanded that the state government pay adequate compensation to the affected people.  Led by JKNPP president Balwant Singh Mankotia, over 200 party activist held demonstrations against Pakistan and sat on a dharna at the party headquarters here accusing the state government of failing to pay adequate compensation to victims of Pakistan shelling.
"They (Pakistan) have failed to face our troops as a result they are targeting civilians," he said.  Mankotia said every family who suffered loss due to heavy Pak shelling all along the International Border and LoC should be allotted plots for rehabilitation.
Noting that the students living in the forward area villages have also suffered academically, the JKNPP leader requested the authorities to conduct special classes for them and postpone their exams.
Attacking the state government over the Cabinet approving a special financial package of Rs 44,000 crore for rehabilitation of flood victims, he termed the decision as "highly discriminatory".
He alleged that the package will only benefit the flood victims of Kashmir as 90 per cent of devastation in Jammu region was caused by torrential rains.
Under the State Disaster Relief Fund norms, flood victims can be compensated for losses, but damage caused by rains has been kept out of its purview, he said.
Mankotia demanded that the J&K floods be declared a "national disaster" so that the rain victims of Jammu Province could also be compensated on par with the flood victims.