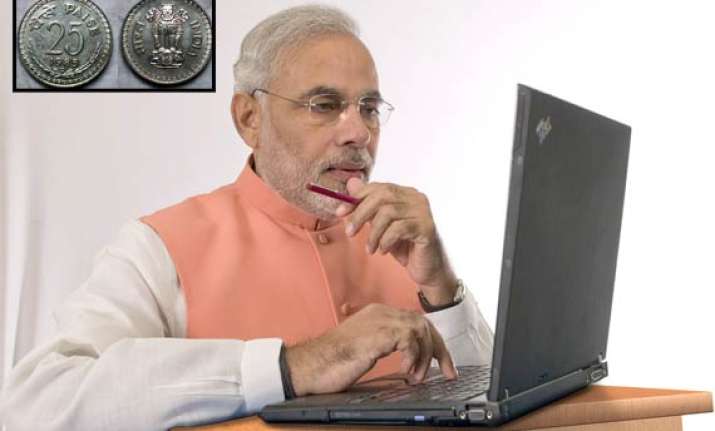 Ahmedabad, Jun 30:  Gujarat Chief Minister Narendra Modi on Wednesday ridiculed the Centre's decision to put 25 paise coins out of circulation and wondered whether this was the Congress government's "strong step" to unearth black money.

He said when the people joined their voice with the yoga expert Baba Ramdev for the demonetisation of thousand rupee notes, which was the only way to unearth black money, the Centre responded by stopping 25 paise coins. This reflected, he said, the Centre's lack of desire to fight against black money.
 
Inaugurating a modern city bus-stop and a flyover here,  Modi questioned the Manmohan Singh Cabinet's running of the government, saying even the Ahmedabad mayor could run the administration better than the Congress-led UPA government was functioning at the Centre.
 
He said after securing votes in the name of the aam aadmi, the Congress government had turned against the people.

He claimed that after Independence, subsequent Congress governments never understood what progress was, and that development was never in their agenda.

He said the Congress government at the Centre was not interested in development, and only wanted to stall Gujarat's march on the path of progress.
 
Attacking the Centre for the "overnight" reduction in Gujarat's quota of kerosene in fair price shops, he said it was one of the many instances of the Centre's step-motherly treatment to the State.
 
"Are the people of Gujarat not the citizens of India and don't they deserve some fair treatment from the Centre?" He said he would continue to stand "firm" between the injudicious Centre and the poor people of the State.