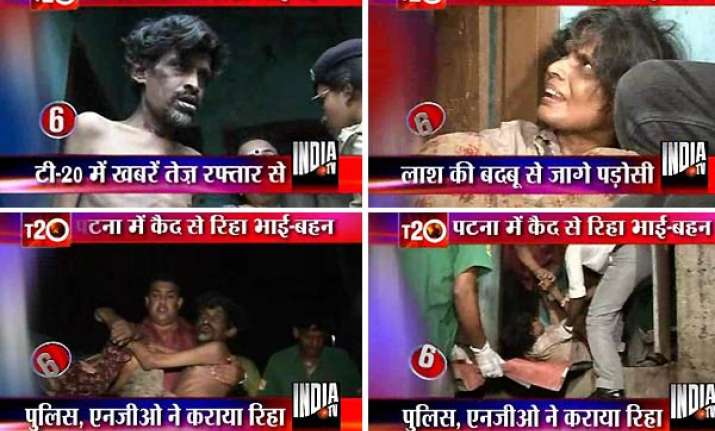 Patna, May 17: In another horrifying incident, reminiscent of the Noida sisters, a woman and her mentally challenged brother were rescued in a famished state from their house in Patna, with the intervention of  an NGO Prayas Bharati and India TV reporter Nitish Chandra on Monday. The two were sent to the Patna mental hospital for treatment.
In Patna's middle-class Shivpuri Colony, Sujata Singh, a former journalist with the Hindi daily Prabhat Khabar, was found with her brother Babu. The two had locked themselves inside the house for the last two years. 
Sujata's father Brajkishore Singh was a former deputy collector in Bihar government. They were a happy family when tragedy struck  nearly 20 hours ago. After a domestic quarrel, Brajkishore Singh suddenly left his home, never to return. 
After an eight-year-long wait, he was declared dead and his wife Godavari Devi was given a job in the Personnel department in Bihar secretariat on compassionate grounds. But Sujata's mother used to have bouts of schizophrenia. One day, Godavari Devi, too, left her home, never to return. 
It was now Sujata's sister Neeta's turn.  Down with bouts of schizophrenia and mental disorder she, too, left the home, never to return. 
In 2009, Sujata's brother Dickey was found dead at their home.  Sujata had kept the body lying for nearly seven days inside the house when neighbours complained of foul smell emanating. Dickey's body was cremated with the help of neighbours. 
By this time, Sujata had broken down completely. Left with her mentally challenged brother Babu, she too had bouts of schizophrenia, left her newspaper job and confined herself with her brother inside the home for the last two years. Sujata had reportedly a broken love affair and there was an incident of eve-teasing which  had traumatized her.
On Monday, when India TV and Prayas Bharati volunteers alongwith police forced the doors open, they found a nauseating sight. The siblings were reduced to mere bones, 
Babu's nails were unusually large and there was a festering wound on his body. Without water and electricity, there was foul smell around. Unwashed utensils lying around in the kitchen indicated that the two had hardly taken any food for the past several months. 
When India TV reporter persuaded Sujata to come with her brother to hospital, she started shouting "Let my brother die, Society never helped us. I am not going to take him to hospital". The ambulance that had come to the home left. 
An ambulance from Patna mental hospital was then brought, and the two were forcibly sent to the hospital. 
The most intriguing point in the whole episode was that none of the relatives of Singh family in Patna came forward to help the siblings. 
The Singhs' house has  nearly 3 cottahs of land lying in front, worth nearly Rs 50 lakhs, neighbours pointed out.