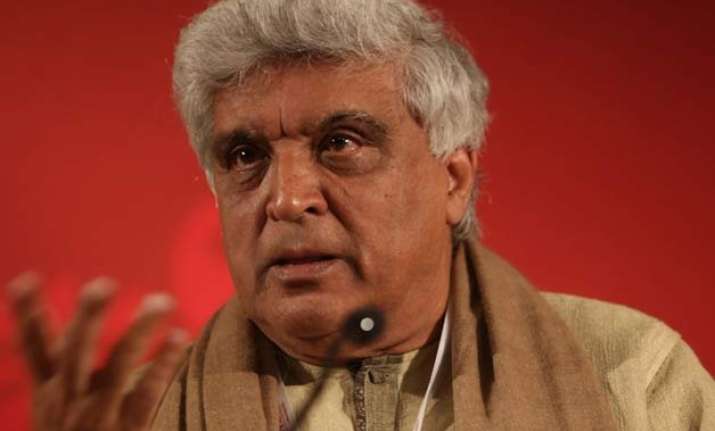 Kolkata: Veteran lyricist-scriptwriter Javed Akhtar has claimed that some Hindu groups are now behaving like Muslim fundamentalists and barring such elements 'Indian society has always been tolerant'.
Speaking at a literary meet here yesterday, Akhtar said, "In 1975 I showed a comedy scene in a temple. Today I won't. But even in 1975, I wouldn't have shown a scene in a mosque because that level of intolerance was there. Now the other one is matching it."
"Now they are joining the club....it's a tragedy. Don't say Hindu. That's a wrong representation. Some Hindu groups," he said at a panel discussion on intolerance.
However, giving the example of Aamir Khan-starrer blockbuster PK, he said it was the Hindus who made the film click at the box office.
"I really wonder in any Islamic country you would make the same kind of film by taking Muslim symbols will become super hit," Akhtar who has co-written scripts of many Hindi blockbusters with Salim Khan including Sholay, Don, Seeta aur Geeta and Deewar said.
Noting that 'we tend to take extreme sides in case of controversies', he said, "There are people who say intolerance has risen to a dangerous level in the society. I don't believe it. There are people who say there is no intolerance in the society. I don't believe them either. The fact lies somewhere in between. The fact is that Indian society is and was always tolerant. There are certain segments of society, they are always at war."
Attack on the freedom of expression, however, according to him, is not a new trend in the country. He said, "There was always some kind of attack on freedom of expression. You can say something in an article and in a seminar, but you cannot say the same thing in a documentary and a feature film. It was always like that."
I won't return my award: Akhtar
Amidst the 'award wapasi' campaign by some writers, he has refused to return his Sahitya Akademi award.
"Because I know that this award was given to me by writers so why should I return it?" he questioned and noted that the jury consists of writers and not policemen or bureaucrats.
"I understand (the case of) Nayanatra Sahgal. She returned it not to get some publicity. Perhaps she felt that this is the way she can protest," he added.
Nearly 40 artists and writers have returned their awards to protest 'growing intolerance' in the country after killing of eminent Kannada writer MM Kalburgi in August last year.
With Agency Inputs