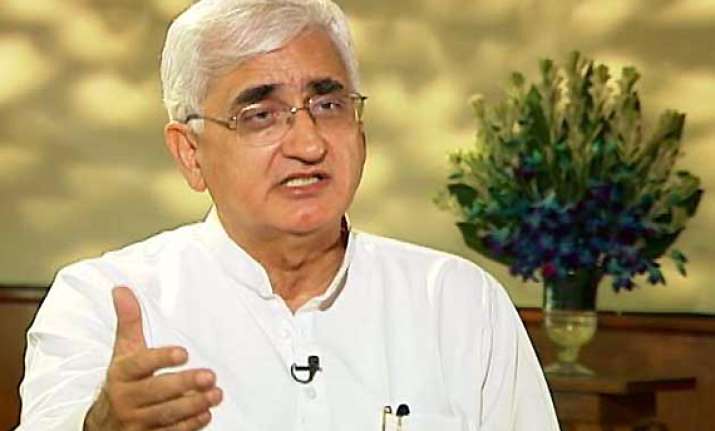 New Delhi, Oct 18: Criticised for its handling of Jan Lokpal movement by Anna Hazare, government today for the first time admitted it was caught "unaware" on the changes the campaign brought around in the society through use of the social media.

However, after this experience, efforts are on to look into the ways to use the social media to convey government's view point, Law Minister Salman Khurshid said, adding it was difficult for those in power to do so as compared to ones outside it.

"We were caught a little bit unaware because it was a remarkable combination of traditional politics and not conventional with modern practices. We were frankly at a disadvantage because we did not use the social media as effectively as Anna's movement did," he said in an interaction with the members of Indian Women's Press Corps here. 

The government could not use the social media like Facebook, SMSes and e-mails to project its views before the people during Hazare's campaign which used the tool to its advantage, he said.

"I am sure my colleagues are looking at it," he said when asked if the government had learnt lessons on the use of the social media.

"But it is a little more difficult to do that, not impossible, because you can get away with a lot more flexibility in what you say and the views you express if you are outside government," he said.

However, Khurshid was very caustic in his remarks when he said Team Anna was not taking credit for pushing for Lokpal bill but for all other things, including Congress' defeat in Hisar Lok Sabha bypoll.

Noting that one particular issue cannot be a decisive factor for results in any election, Khurshid said if anybody thought so they will be "mistaken".

Asked about Team Anna's claim they were responsible for the defeat of Congress in Hisar, he said "I don't think that is a very sensible and useful way of taking the movement forward."

He also maintained that in politics "you lose some, you win some The minister said "I will give him (Hazare) credit where it is due....But it is strange that they are not taking credit for the movement (against corruption)."

Reiterating government's commitment to bring in strong and effective Lokpal bill in the winter session of Parliament, Khurshid said "we are not doing so because it is good for soul but because it is expected of democracy."

He also criticised members of Team Anna for making assumptions that government's decision to make Lokpal a constitutional body was a delaying tactics. "They could have simply asked us if it would delay it (bill) but till date nobody has asked us this," he said.