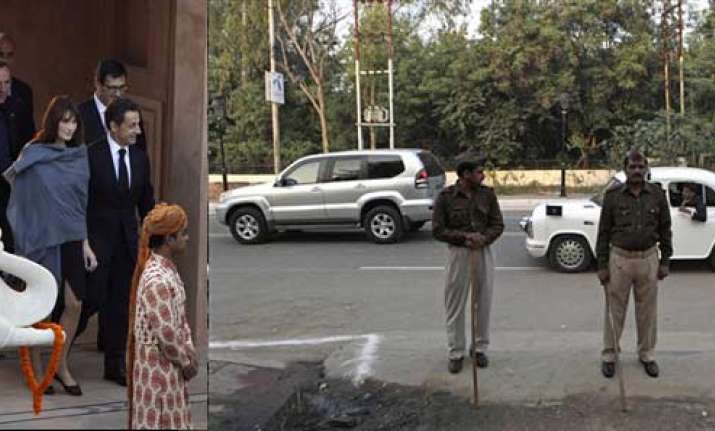 Agra, Dec 4: French President Nicolas Sarkozy could not wait to keep his date with Taj Mahal in the company of his wife Carla Bruni.
The French First Couple advanced their visit to the monument of love here by a day.
Sarkozy, who had last visited the Taj alone in 2008 could not bring Carla, then his girlfriend, due to protocol reasons.
Arriving from Bangalore, where he spent a few hours on the opening day of his four-day trip, the couple headed straight to the Taj Mahal, changing their earlier plans of going there tomorrow for a look at the sunset from the monument.
While Sarkozy was in a lounge suit, Carla was wearing a knee-length dress with a stole draped around her shoulders and spent about 40 minutes at the Taj Mahal.
"I will pay tribute to this extraordinary civilisation embodied by the Taj Mahal-- an unforgettable monument to eternity," Sarkozy said about the 17th century monument built by Mughal Emperor Shah Jahan for his wife Mumtaz.
"I am looking forward to the Taj visit," said Carla in Bangalore.
Apparently whetted by the evening visit, the couple may plan to go again tomorrow morning on the way to Fatehpur Sikri. They will stay for the night in hotel Amar Vilas, from where one can get a beautiful view of the Taj.
Meanwhile, the streets leading to the hotel wore a deserted look. Even the few handful of journalists and camera persons present had to work hard with the police to allow them space to see the couple from a distance.
The unscheduled visit to the Taj caught every media personnel by surprise and as they rushed to catch a glimpse of the distinguished visitors, the cops pushed them into the by lanes.
"Do you want me to be suspended? We have strict orders from the MEA and the embassy not to allow any media to catch a glimpse of the VIP," a policeman said.
Another enterprising group of journalists who had climbed the roof top of a nearby house were also shoved away.
But for Zahid, the driver of battery operated vehicle that took the first couple to Taj, it was a pleasant experience. PTI