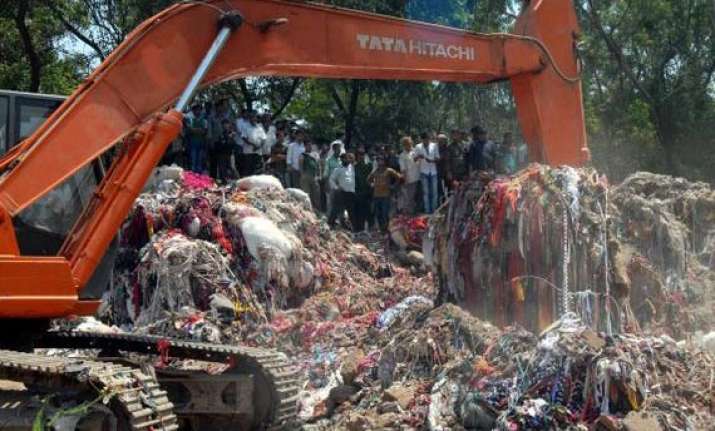 Thane, Apr 9: Two more persons including a journalist from Mumbra have been arrested in connection with the building collapse in Shil Phata area, which killed 74 people, taking the total number of arrests in the case to 11, police said on Tuesday.
Farukh Abdul (59), an architect and journalist Rafiq Daud Kamdar (44), said to be a conduit for officers, were held on Monday by Thane crime branch, which is probing the crash.
The name of Kamdar was found in diaries of one of the arrested builders, police said.
Earlier, nine people including suspended Deputy Municipal Commissioner Deepak Chavan, Assistant Municipal Commissioner (AMC) Babasaheb Andhale, Municipal Corporation clerk Kiran Madke, NCP corporator Hira Patil, policeman Sayyed, estate agent Jabbar Patel and building material supplier Afroz Alam Ansari were arrested.
On Saturday, builders Jamil Qureishi and Salim Sheikh were held from UP and Thane. A day after, all the nine were remanded to police custody till April 20.
Meanwhile, after the killer collapse at Shil Phata, the Thane Municipal Corporation (TMC) has decided to raze 57 unauthorised structures in the district including in the Mumbra-Kausa area in the first phase of the demolition drive, which begins today.
A decision in this regard was taken at a civic body meeting at the corporation headquarters here.
The review meeting, presided by Thane Municipal Commissioner R.A.Rajeev chalked out an action plan for illegal buildings, which are likely to be demolished before monsoon, a TMC release said here.
It was also decided that the demolition cell will be strengthened and 15 more officials will be added to it. Senior Engineer Anil Patil will be in-charge of the massive demolition drive in nine wards, it said.
Also, nine legal advisers would be appointed to assist the corporation in legal matters during the drive.
Some buildings, which are to be pulled down, are presently occupied. They will be vacated and taken over by TMC.