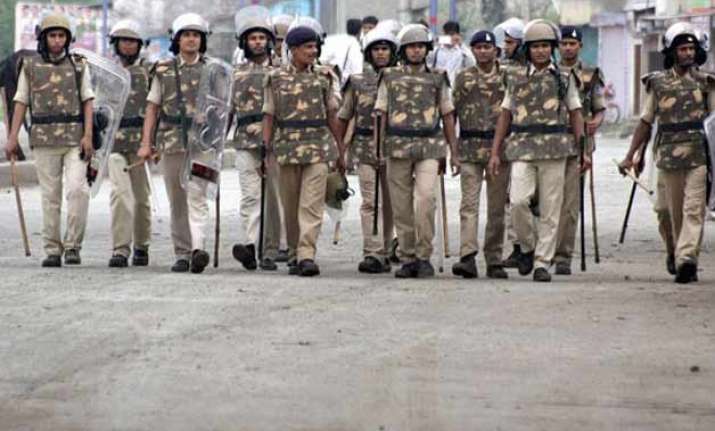 Bikaner: Indefinite curfew clamped in Sridungargarh here continued for the second consecutive day today following clash between the members of two communities during a religious procession.
Tension continues to prevail in the city, but the situation is under control as no toward incident has been reported from the area, Bikaner Superintendent of Police, Santosh Chalke said today.
Additional force of about 500 jawans, including two companies of Rajasthan Armed Constabulary, have been patrolling in the troubled areas of the city, which is 70 kms from here, Chalke said.
A peace talk will be held in the evening in which Rajasthan Minister and Bikaner in-charge Rajkumar Rinwa would hold conversations with members of both the communities, Chalke said.
The trouble started Friday when a religious procession was crossing a shrine belonging another community in village Gusaisar. 
The people in the shrine asked the other group to stop the music, but the latter did not relent which led to a confrontation, the SP said.
As violence broke out, additional security personnel were rushed to the area, police said, adding thatched roof portions of two shops were torched today by miscreants.
At least 12 persons, including four policemen, were injured as the two sides indulged in stone pelting, he said, adding they all were discharged later at night after treatment.
83 members of both the communities who were indulged in the clash were arrested, he said.
The religious procession was taken out peacefully under police protection yesterday itself, the SP said.
Meanwhile, the situation is under control in Bhilwara district, where prohibitory orders were imposed and internet services were disrupted by the administration following clash between two communities.
Tension gripped some areas of Bhilwara city when the body of a 24-year-old man was found near Sanganeri Gate during a
religious procession, Superintendent of Police Hemant K Sharma said.
The two communities pelted stones at each other in Sanganeri Gate, Adarsh Nagar and Nagauri Garden areas of Bhilwara, the SP said.
Twelve persons were arrested under section 151 (knowingly joining or continuing in assembly of five or more persons after it has been commanded to disperse) of the IPC and later released on bonds, the SP said