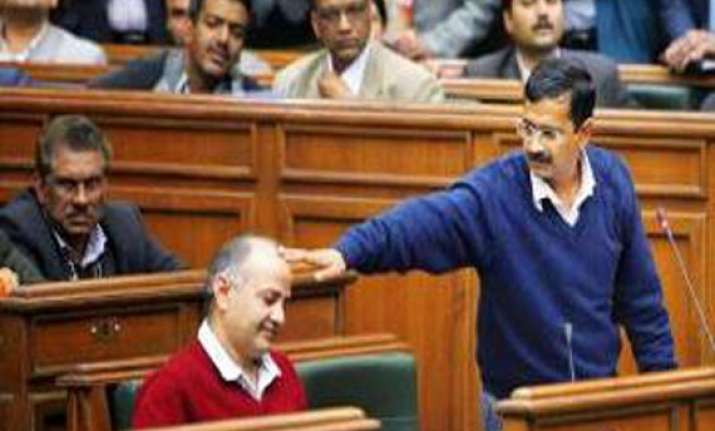 New Delhi: Congress and Opposition BJP Friday night took a jibe at Arvind Kejriwal after he quit over Jan Lokpal Bill, saying he was never serious to govern and was looking for an excuse to "run away" to cover up his "failure" to deliver on his commitments.
The BJP at the same time made it clear that the party would seek fresh elections in Delhi and was ready for it rather than form an alternative government since it did not have the required numbers in the state Assembly.     
Kejriwal's estranged mentor Anna Hazare said it was unfortunate that Jan Lokpal Bill could not be passed and that he had to resign.     
Congress, which was Aam Aadmi Party's (AAP) outside supporter, accused Kejriwal of being a "negative person, glib-talker and a smooth-lier who was looking at an excuse to run away."     
Kejriwal was never serious to govern and his resignation was well-anticipated, party spokesperson Sandip Dikshit told PTI.     
"He was never serious to govern and the exit of his government marks the end of a big drama. He will find any excuse to run away, to act like a martyr," Dikshit said.     
DPCC Chief Arvinder Singh Lovely said Kejriwal's resignation was totally scripted and a pre-planned drama.     
Both Singh and AICC communication department chairman Ajay Maken said Congress had made it clear that it was in favour of Jan Lokpal bill, but the way it was being tabled was totally unconstitutional.     
"Unfortunately, Kerjriwal chose to resign rather than to wait for a few days to seek permission as required by the Constitution. Our stand has been same that the Bill introduced in assembly should be as per the norms laid down in the Constitution," Maken said.     
With  Kejriwal recommending fresh elections to Lt Governor Najeeb Jung, BJP leader and Leader of Opposition in the Assembly Harsh Vardhan said the party would seek fresh elections rather than form an alternate government.
"I have said this on December 8 (after the Delhi assembly election results) that we do not have numbers. We are even ready if election is held next week," he said.    
Delhi BJP President Vijay Goel termed the resignation as a "political drama" orchestrated by AAP to prepare for Lok Sabha polls.     
BJP spokesperson Sudhanshu Trivedi accused Kejriwal of forming a government in Delhi by "deceit" without a mandate of the poeple and resigning  to cover up his failure to deliver on his commitments.