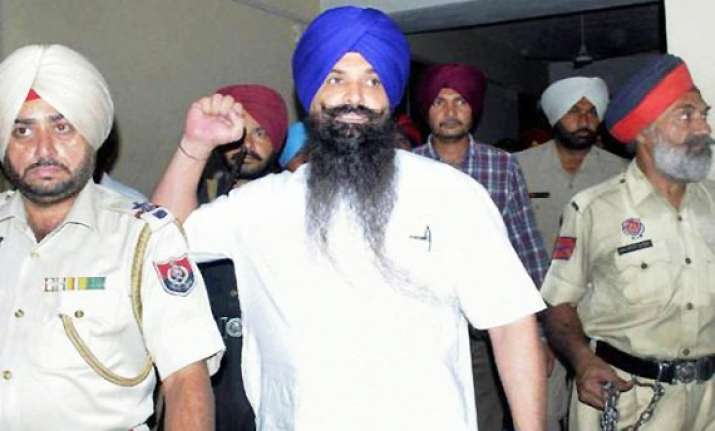 New Delhi, Mar 28: The hanging of Babbar Khalsa terrorist Balwant Singh Rajoana, assassin of former Punjab Chief Minister Beant Singh, was today stayed by the Centre following a mercy petition by top sikh religious body SGPC to President Pratibha Patil.
The Home Ministry, in a letter to the Punjab Government, stated that the execution of 44-year-old Rajoana, scheduled to be carried out on March 31 as per the Chandigarh Sessions Court order, has been stayed.
The Shiromani Gurudwara Prabandhak Committee had moved the petition under Article 72 of the Constitution for grant of clemency to Rajoana.
"As per procedure regarding petitions for mercy in death sentence cases the execution of Balwant Singh Rajoana is stayed till the order of the Supreme Court in the matter of Criminal Appeal No 2277/2011 and 1464/2011 or till the order of the President of India on the said mercy petition, whichever is later," the Home ministry communication said.
The Home Ministry order came soon after Punjab Chief Minister Parkash Singh Badal and Deputy Chief Minister Sukhbir Singh Badal met President Patil and sought her intervention to secure clemency for Rajoana in the interest of peace and communal harmony in the state as also national interest.
The Centre's intervention had become necessary in view of the matter taking a political turn and wide-spread protests against the hanging all over the state. Punjab also witnessed a state-wide Bandh today against Rajoana's hanging on Saturday.
Chief Minister Badal, meanwhile, reiterated that peace and communal harmony would be maintained at all cost and warned all those trying to take advantage of the situation.
"We assure the people of the nation that law and order will be maintained at any cost...Anyone who tries to disturb the peace and communal harmony in the state will be handled properly," he said.
Deputy Chief Minister Sukhbir Badal also said, "We appeal to the people of Punjab to maintain peace. We will take strict action against anybody trying to take advantage of the situation."
The hanging of Rajoana had taken a political turn with the ruling Akali Dal campaigning hard against his execution while its coalition partner BJP saying the law should take its own course. The Punjab Congress had been in favour of clemency.
Rajoana, a police constable and a close friend of another assassin Dilawar Singh Babbar, was the second human bomb to be used in case the first one failed to kill Beant Singh on August 31, 1995.
The President's office forwarded the mercy petition to the Union Home Ministry. Already 18 mercy petitions are pending before the President.
When asked on why Shiromani Akali Dal was playing politics by seeking clemency for Rajaona, which was neither asked by him nor his family, Badal merely said, "There is no politics in this. It is our duty."
Badal, who also met BJP leaders L K Advani and
Arun Jaitley
ahead of his meeting with President Patil, claimed the staying of Rajoana's hanging was the result of efforts made by SAD, BJP and the Punjab Government. "Our efforts of SAD, BJP and Government have succeeded, with God's grace," he said.
Meanwhile normal life was crippled across Punjab today which witnessed sporadic violence during the day-long bandh, called by radical Sikh outfits, to protest Saturday's hanging of Rajoana.
Most business establishments were shut and road and rail traffic was disrupted at many places as Sikhs, sporting saffron headgears and brandishing swords, hit the streets on motorcycles shouting slogans in support of Rajoana, who is currently lodged in the Patiala Central Jail.
Saffron flags dotted market places and house-tops in cities and villages as women too joined the protest expressing solidarity with Rajoana. Areas around the Golden Temple, the main sacred place of Sikhs, were clogged with protesters.
Board examinations, slated for today, were postponed with offices, private institutions, colleges and schools reporting thin attendance.
Reports of skirmishes between protesters and right-wing Hindu activists were received from several places including Patiala, Kapurthala, Gurdaspur, Jalandhar, Phagwara, Bathinda and Ropar, officials said.
The protesters stopped New Delhi Amritsar Shan-e-Punjab at Jalandhar and Mumbai-Jammu Swaraj express at a crossing in Hoshiarpur district for brief periods. Police swung batons to disperse them and restore calm.