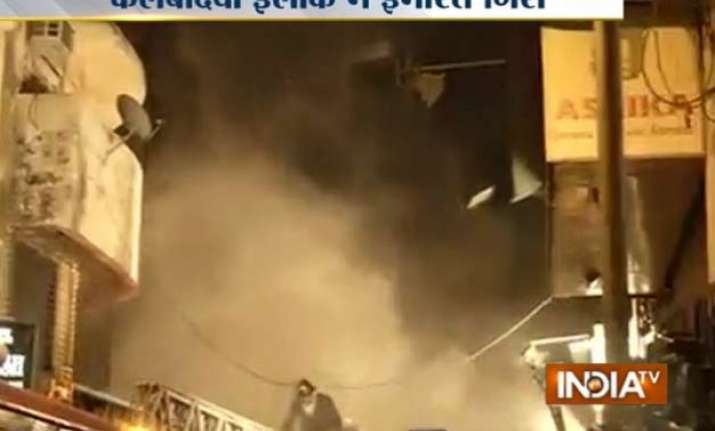 Mumbai: Two of the firemen were killed while two others suffered severe burns after a five storey building in Kalbadevi area of South Mumbai collapsed while fire-fighters were trying to douse a massive blaze that broke out on Saturday evening.
Two senior fire officers–SW Rane and MN Desai were pulled out from the debris late night and rushed to GT hospital where they were declared brought dead, confirmed the hospital. The blaze was brought under control by 11pm.
SG Amin, Additional Divisional Fire Officer (ADFO) sustained 90 percent burns, while Sunil Nesarikar, Chief Fire Officer sustained 50 percent burns. Nesarikar was one of the senior fire officer actively involved in 26/11 Taj rescue operation. Both the officers were rushed to the National Burns Centre, Airoli.
Four of the building's residents—senior citizen Jaywanta Pol, her two daughters and a granddaughter were rescued unhurt as firemen helped them jump from the terrace of their building to that of an adjoining building.
The fire brigade struggled for six hours to control the fire but in vain. The blaze weakened the old building, which caved in around 9pm. Property worth crores of rupees is believed to have perished. The 50 year old structure was under renovation and collapsed as it could not sustain the heat.
The police said initial information suggested that the fire started on a lower floor and the garments in the godowns fuelled its spread.
"No one informed us about the fire. We learnt of it when the blaze spread through the lower floors. We panicked and began to shout out as smoke had started to spread. We had lost all hope and are grateful to the fire brigade for rescuing us," said Megha, Jayawanta's married daughter. "But we have lost everything. My sister's marriage was to be held on May 30. All her clothes and jewellery are gone."