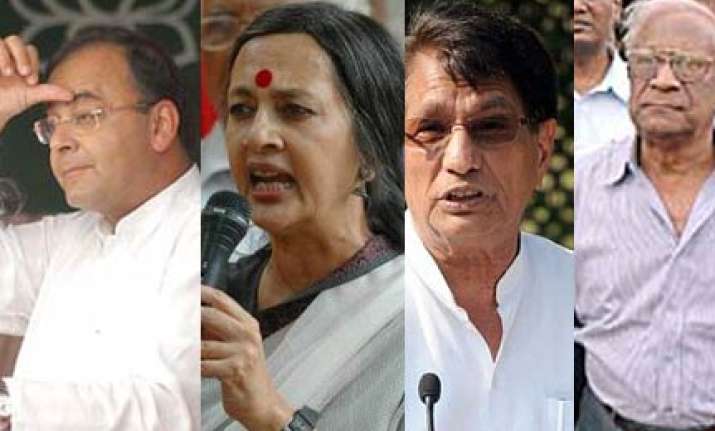 New Delhi: RLD chief Ajit Singh on Thursday  got the Left and the Right on his sides to send a warning to government to immediately bring a new law on land acquisition as his party staged a protest here against acquiring of farmers' land by Uttar Pradesh government. 
CPI General Secretary A B Bardhan and CPI(M) Polit Bureau member Brinda Karat shared the dais with senior BJP leader Arun Jaitley and thundered against the government's alleged "anti-farmer" policies asking it to scrap the existing century-old land acquisition law and bring a fresh one. 
JD(U) chief Sharad Yadav, his LJP counterpart Ramvilas Paswan, TDP's Namo Nageswar Rao and AIADMK's M Thambidurai also lent their voice to RLD's demand for a new law. 
The 'Gherao of Parliament' came against the backdrop of the protest against acquisition of land for Yamuna Expressway, police firing on farmers in UP and to demand amendment in Land Acquisition Act and adequate compensation for farmers. 
Addressing hundreds of protestors from western Uttar Pradesh, Ajit Singh said he had met Prime Minister Manmohan Singh a week ago demanding a new law for land acquisition but did not get any response. 
"Yesterday, the Prime Minister announced that such a law will be introduced in the next session after a meeting with Rahul Gandhi. He should understand that he is not the Prime Minister for just Rahul Gandhi. He is my Prime Minister, your Prime Minister," he said. 
Noting that the Prime Minister has been congratulated for freeing our economy and many other things, he asked why the farmers are being "kept captive" when he frees the lives of hundreds of people. He said the government "should not just act as a beneficiary" of real estate agents. 
Jaitely noted that the government does not have enough numbers to get through any legislation in Rajya Sabha and the opposition parties will use this not pass such legislations which are against the interests of people. 
"You saw this in the civil nuclear liability bill. It would not have passed without our support. Congress is in a minority in Rajya Sabha and we will not allow Congress to pass any legislations which are against people," he said. He also asked the government to convene an all-party meeting on the issue of a new law for land acquisition.
Bardhan said he does not trust the government as it has made many promises which are still "unkept" and that one has to continue its fight against the government for their rights. Karat said that the existing law is meant for grabbing farmers' land for real estate. PTI
In Ghaziabad,  police lathi charged farmers on Thursday who disrupted rail traffic to protest the process of land acquisition in Uttar Pradesh and action taken against agitating farmers by police a fortnight ago. 
As many as 15 of the 2000 odd farmers were injured in the baton charge, police said, adding that none of them were serious in nature, district magistrate Hredesh Kumar said.  The farmers had gathered from the district, Aligarh, Meerut and Bulandshahr. 
They have been seeking the same compensation as provided in Noida for the land acquired for the Yamuna Expressway project. 
On August 19, the Mayawati government offered the agitators in Agra an enhanced compensation package (from 459 per square metre to Rs 940 per square metre) for their land which was already acquired for the project even as peasants in Aligarh and Mathura demanded a hike in the rates for their plots. 
The farmers held demonstrations for nearly three weeks in villages along the Expressway demanding more compensation. 
Four persons, including a PAC jawan, had died in clashes between agitating farmers and police in Aligarh district.
Meanwhile,  Congress on Thursday  extended support to the rally by farmers near Parliament House against the land acquisition policy of the BSP government in Uttar Pradesh even though it did not participate in the demonstration. 
"A rally of farmers was held. We sympathise with them. But the issue is extensive and not limited to Uttar Pradesh alone," party spokesman Manish Tewari told reporters here. 
Parties cutting across political divide participated in the rally. While RLD played a major role, the participants included top leaders from BJP, CPI, CPI(M), JD(U), LJP, TDP and AIADMK. 
Tewari said party general secretary Rahul Gandhi has already met Prime Minister Manmohan Singh and has apprised him of the "anger" of the farmers on the land acquisition issue. 
"Congress has already demanded that the government should place the Land Acquisition Bill before the Parliament, either in its original form or in an amended form," Tewari said. 
Asked about the opposition of party ally Trinamool Congress to the bill, the spokesman merely said, "the changing contours of development versus nature and where does the human being stand in this process was an issue which the politicians and intellectuals should think about". 
To a query whether consultations will be held with TC chief Mamata Banerjee on the issue, Tewari said, "this is all what democracy is all about" and referred to the discussions with opposition BJP which led to the passage of the nuclear liability bill in the Lok Sabha. 
Referring to the rally of Rahul Gandhi in Orissa, Tewari said this showed the sensitivity of the Congress towards the tribals and their life-style and was a way to express solidarity with them. PTI