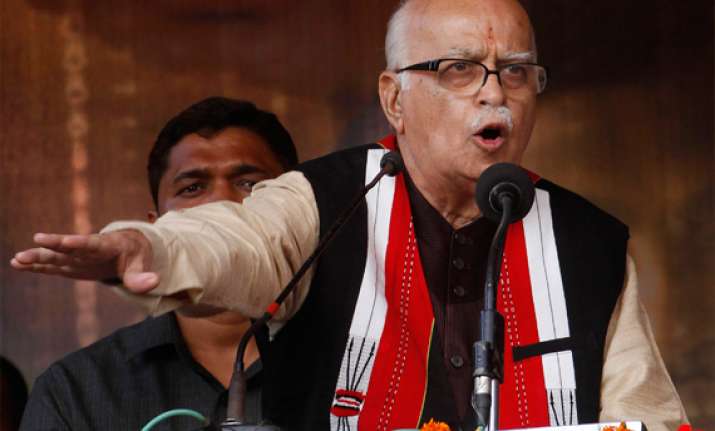 Thiruvananthapuram, Oct 29: Charging the UPA government with not showing any sincere interest to bring back blackmoney stashed in foreign banks, BJP leader L K Advani Friday night demanded that it issue a white paper on the measures taken on the issue so far.

"Government has not shown any sincere interest to restore blackmoney parked in foreign banks, especially in Swiss banks.  It should bring in a white paper on the steps it has taken on the matter so far," he said at a public meeting organised by BJP as part of his Jan Chetna Yatra here.

Recalling having written thrice on the issue to Prime Minister Manmohan Singh, Advani said the government had not taken decisive step even after the Swiss government enacted a law for returning the blackmoney to respective countries.

"Due to global pressure and United Nations taking interest, a new bill titled Restitution of Illegal Assets Act was brought in by the Swiss Government. Under this, if any country so demanded, they would restore the money to the respective country," he said.

If the Government of India was sincere it could take steps under that law to bring back black money, estimated to be about Rs 25 lakh crore, he said.

Noting this was his sixth yatra, Advani said the basic themes of this campaign was fight against corruption and blackmoney "which has dented India's image globally."
He said recent events on corruption had generated pessimism among people. "One of the objectives of the yatra is to instill optimism among people by putting across the message that what is happening in Delhi is not what the country actually is."

Advani said he was moved by 'very good response' received by the yatra wherever it toured and was confident the Centre would be forced to act by the end of the campaign.

He said the blackmoney restored to the country could be used to launch massive infrastructure projects for the benefit of around six lakh villages.

Earlier, on his arrival at Aryankavu in Kollam district on Kerala-Tamil Nadu border, he was accorded a warm reception by party state functionaries.