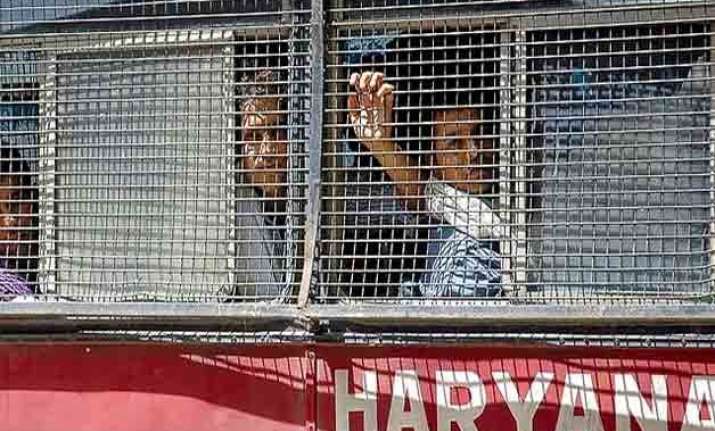 New Delhi: Six persons have been arrested in a joint operation by Delhi and Haryana police after an alleged bid by them to free a convict in a murder case while he was being taken to a hospital from Gurgaon's Bhondsi Jail.
 
Police have arrested Delhi residents Rahul (27) and Virender (24) along with Haryana residents Sunny (29), Sandeep (24), Raj Pal (27) and Vishal (30).
 
Deputy Commissioner of Police (Outer Delhi district), Vikramjit Singh, said that on March 20, information was received that Surender, a convict sentenced to life imprisonment in a murder case who is lodges presently at Bhondsi Jail in Gurgaon, would have some associates try to free him when he went to PGIMS Rohtak for a medical check up.
 
The information that Surender's associates Rahul, Virender, Sandeep, Sunny, Vishal and Raj Pal were planning to release him from police custody was given to Haryana police, he said.
 
A joint team of Special Staff of Outer District and IG Staff, Rohtak, laid a trap near PGI Medical Rohtak and, when the accused persons came in a car, tried to stop them.
 
"In an attempt to escape, the driver of the car increased the speed and tried to hit the police personnel, but the cops managed to save themselves and the car hit a barricade.
 
"The six occupants of the car were then all caught," Singh said.
 
Two country-made pistols loaded with live cartridges were recovered from the possession of Rahul and Virender with police saying that the duo was involved in other criminal cases.
 
During interrogation, the accused said that Surender was in regular contact with his accomplices from inside the prison. The escape plan was made by Surender and he had asked them to attack the police party when he is taken to the hospital, the accused said.
 
An FIR has been registered at PGIMS Rohtak police station under the Arms Act and IPC for the offences of attempt to murder and obstructing public servants in discharge of duty, assaulting and using criminal force on them.