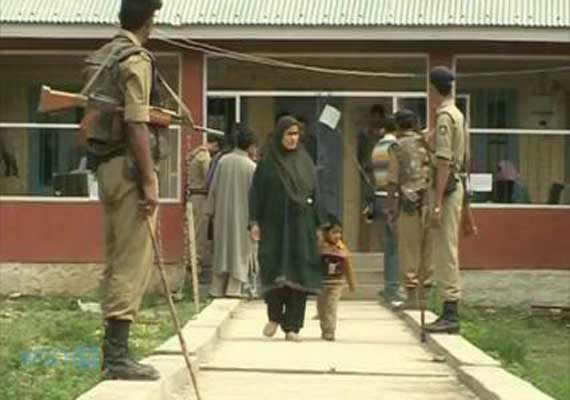 Jammu : Due to the prevailing security situation in Jammu and Kashmir, as many as 4,059 polling booths in the state's total 9,633 polling stations have been declared as critical, a top election official said Tuesday.
A review meeting here chaired by chief electoral officer Umang Narula and attended by Special Director General of Police (DGP) K. Rajendra, the police nodal officer for the state, discussed in detail the issue of mobilization and districtwise deployment of central armed paramilitary force (CAPF) and the state armed police (SAP) during.
During the meeting, Narula said the state has 9,633 polling stations and out of these, 4,059 polling booths at 3,461 polling station have been declared "critical locations".
Rajendra stated that the force deployment for the elections is being made keeping in the view that the election commission has already extended the time of poll from 7 a.m. to 6 p.m.
During the meeting, he said so far 817 licensed weapons owned by civilians have been deposited in various police stations as per the directives of the election commission.
As many as 376 people have been bound to keep the peace, 957 non-bailable warrants have been executed, 171 hamlets indentified as vulnerable and 143 people indentified as probable source of trouble.
The logistical arrangements for the para military forces being made in this regard for troopers coming from outside the state for performing election duties were also discussed.
The meeting was told besides the keeping the entire police force of that state at the disposal of the election commission, 330 companies of central paramilitary forces would be used for the elections.
For 2009 Lok Sabha elections, 1,' companies of para military forces were deployed in order to conduct fair and transparent elections.