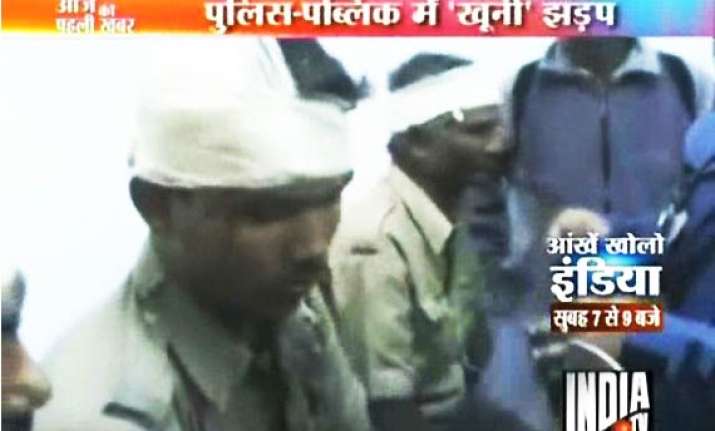 Diamond Harbour, 24 Pargans, Dec 2: Two persons were killed and three others were injured when police fired on a violent mob in south 24-Parganas on Thursday during a crackdown against power thieves.

A 12-year-old girl and a woman were killed  and three villagers in Mograhat's Nainan village were injured.

17 policemen were injured in brickbatting by the mob.

The police had gone to the village with engineers of state power utility West Bengal State Electricty Distribution Company Ltd (WBSEDC) to crack down on electricity theft.

A WBSEDCL official said that for the past three days, "we had been requesting villagers over microphones not to hook power". "If hooking is stopped in Bengal, between Rs 300 crore and Rs 350 crore can be saved annually," he said.

The villagers protested when the engineers escorted by police  began pulling out hooks for stealing power.

Police fired 50 rounds in the air after lathicharge and teargassing failed. The mob threw bombs and bricks at the police.

West Bengal chief minister Mamata Banerjee has ordered a probe into the police firing.

Banerjee said police should have "exercised restraint".

The villagers claimed they had not got power connection even though they had applied for it six months ago.

 "We were forced to hook from an overhead high-tension line. We showed the officials documents proving that we had applied for connection. The officials insisted they would disconnect the (illegal) lines," said resident Sheikh Anarul.

Banerjee  suspected that "some political leaders" might have "provoked the villagers". She added the villagers were "not to blame".

Mamata made an indirect reference to the permissive policy followed over the years, saying the earlier government had not collected Rs 2,200 crore in power dues.

"Although hooking is illegal and there was a lot of provocation, the police should have exercised restraint. Firing should not be the first option," she said.

The chief minister asked the police not to raid houses to arrest villagers involved in the clash. "The primary task is to restore peace."

Mamata said power department officials should not have warned the villagers in advance. "Instead, they should have conducted a surprise raid. I was busy at Writers' throughout the day. If I had come to know earlier, I could have solved the problem," she said.