Follow us on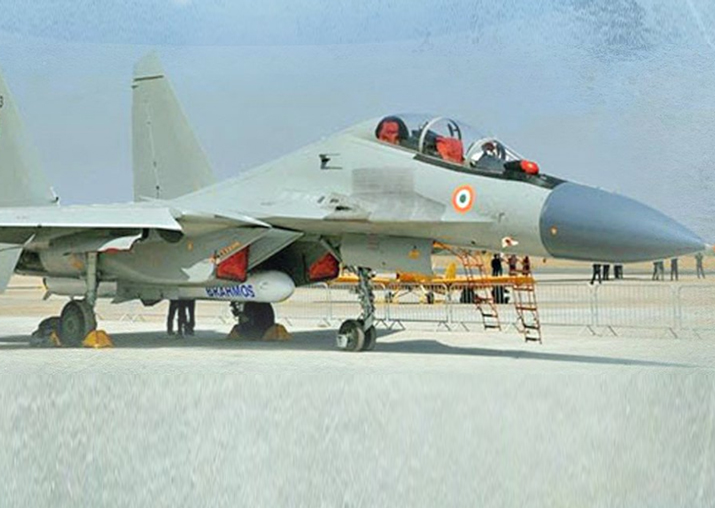 The Indian Air Force (IAF) today successfully flight-tested the air variant of BrahMos supersonic cruise missile from a Sukhoi SU-30MKI fighter jet to hit a sea-based target in the Bay of Bengal.
This was the first test of the missile's air version against a target. The development also completes the country's tactical cruise missile triad.
The heavyweight missile, integrated with the long-range fighter, is seen as a force multiplier for the Indian Air Force.
In a statement issued here, the Defence Ministry said that BrahMos, the world's fastest supersonic cruise missile with a multi-platform, multi-mission role, is now capable of being launched from land, sea and air.
"BrahMos created history on November 22 after it was successfully flight-tested for the first time from the IAF frontline fighter aircraft Sukhoi-30MKI against a sea-based target in the Bay of Bengal," the statement said.
BrahMos ALCM, weighing 2.5 tonnes, is the heaviest weapon to be deployed on India's Su-30 aircraft, modified by Hindustan Aeronautical Ltd to carry weapons.
The missile test was witnessed by Sudhir Mishra, Director General (BrahMos), and CEO and MD, BrahMos Aerospace, along with IAF officials, scientists and officials from DRDO and BrahMos.
BrahMos is a joint venture between the Defence Research and Development Organisation of India and NPOM of Russia.
The Su-30, considered the most potent fighter jet with India, was the choice for fitting the Brahmos missile as it has an airframe of titanium and high-strength aluminium alloys, fit for a high-speed terrain following profile.
The fighter jet's aerodynamic configuration increases the aircraft's lifting effectiveness, deflects automatically and allows high angle-of-attack flights.