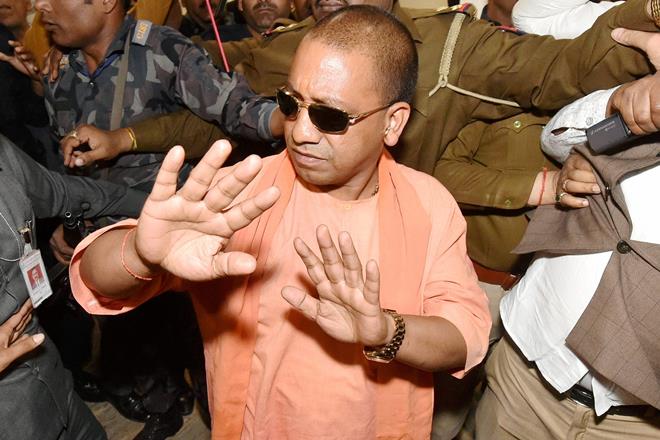 Cutting short his high-octane campaign in poll-bound Karnataka, Chief Minister Yogi Adityanath is headed back to Uttar Pradesh to visit storm-hit areas to take stock of the situation on Friday. The chief minister will arrive in Agra tonight and visit the calamity-hit areas tomorrow morning, Principal Secretary Information Avanish Awasthi said. 
This comes after a 132-kmph dust storm hit the city on the intervening night of Wednesday-Thursday bringing heavy showers and hailstorm that killed 44 people and destroyed properties worth in crores. 
The doctors at the S.N. Medical College have conducted postmortem of 44 bodies, who succumbed to injuries. The number of deaths were expected to rise.
Adityanath was criticised yesterday by Karnataka Chief Minister Siddaramaiah for remaining in Karnataka even after his own state was hit by the storm. 
"I am sorry your CM is needed here in Karnataka," Siddaramaiah had tweeted. "I am sure he will return soon & attend to his work there." 
Adityanath will review the relief and restoration efforts in Agra district, the UP official said. 
The chief minister will later leave for Kanpur to monitor the relief work there and in nearby districts, Awasthi said. 
Agra has witnessed two devastating storms in 20 days. More than 1,400 villages continue to remain without power supply, an official said. 
Trains were still running late. Historical buildings, including the Taj Mahal have suffered extensive damages. Two wooden doors of the Taj minarets have been damaged and several trees in the mausoleum were uprooted.
The weather office on Friday sounded a 72-hour alert till Monday here in Uttar Pradesh, Agra District Magistrate Gaurav Dayal said and issued a detailed advisory to manage any imminent disaster.
WATCH | Met dept predicts thunderstorm for several states