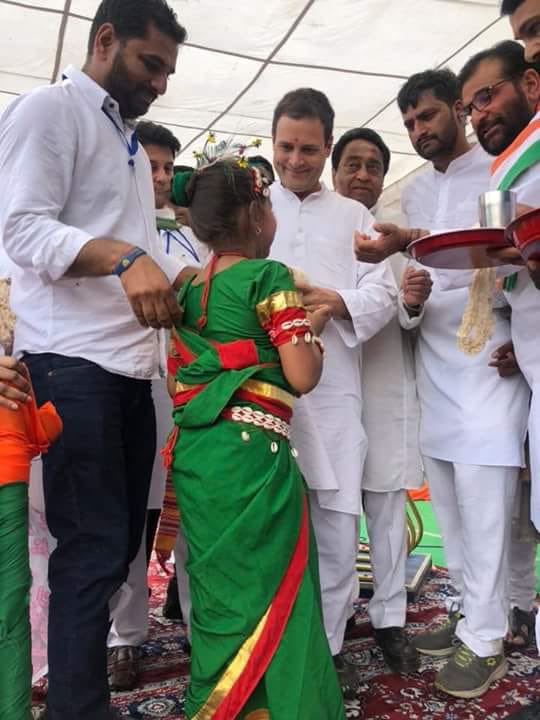 Congress president Rahul Gandhi on Monday kicked off poll campaign in Madhya Pradesh, beginning with his roadshow after taking blessings from 11 Hindu priests. He is also expected to address party workers later today. 
Gandhi arrived in Bhopal to a grand welcome, and was received at the airport by Madhya Pradesh Congress president Kamal Nath and senior party leader and Guna MP Jyotiraditya Scindia among others.
Congress President @RahulGandhi arrives in Bhopal to kickstart the poll campaign with the #CongressSankalpYatra. pic.twitter.com/2DGssMUw5E

— Congress (@INCIndia) September 17, 2018
Posters and banners have been put across the state describing the 48-year-old Congress chief a  'Shiv bhakt.'​ As he stepped out from the airport, several Congressmen holding the party flags chanted "Rahul Gandhi Zindabad".
Hindu priests, chanting mantras, blessed Gandhi as he reached the Lalgathi area, amid a heavy security cover, to launch the poll campaign in Madhya Pradesh where the BJP has been ruling for the last 15 years.
Before hopping on to a bus for the 15-km-long roadshow, Gandhi performed a 'puja'. Thousands of Congressmen thronged the road sides and jostled to catch a glimpse of their party chief, who set out in the bus along with senior party leaders.
कांग्रेस अध्यक्ष राहुल गांधी जी ने भोपाल के अग्रसेन चौराहे में स्थापित भगवान विश्वकर्मा जी की पूजा अर्चना की। pic.twitter.com/h81M1PIF0e

— MP Congress (@INCMP) September 17, 2018
Gandhi's roadshow, after passing through the main streets of the city, will conclude at the Bharat Heavy Electricals Ltd's Dussehra Maidan, where he will interact with party cadres this evening.
चाय, समोसा और सेल्फी 🤳#CongressSankalpYatra pic.twitter.com/cewTNqnAFZ

— Congress (@INCIndia) September 17, 2018
"A T-shape ramp has been constructed near the stage from where Gandhi is going to take questions from party workers and interact with them," state Congress spokesperson Pankaj Chaturvedi said.
Before leaving in the evening, Gandhi will address a meeting of Congress workers, which is also open to public, he said.
Heavy security has been deployed in the areas from where Gandhi is going to pass. Besides the regular police force, an additional 1,500 policemen are manning the streets of Bhopal.
कांग्रेस अध्यक्ष राहुल गांधी जी का जगह-जगह स्वागत करती मप्र की जनता..!
नई सुबह और नई सरकार,
मप्र में है कांग्रेस की बयार।#CongressSankalpYatra pic.twitter.com/9Ie5ceyHTE

— MP Congress (@INCMP) September 17, 2018
The Congress president recently returned from a pilgrimage to Kailash Mansarovar. As part of the pilgrimage, devotees undertake an arduous journey to Mount Kailash, which is considered the abode of Lord Shiva in Hindu mythology. 
Watch Rahul Gandhi's roadshow in Bhopal: