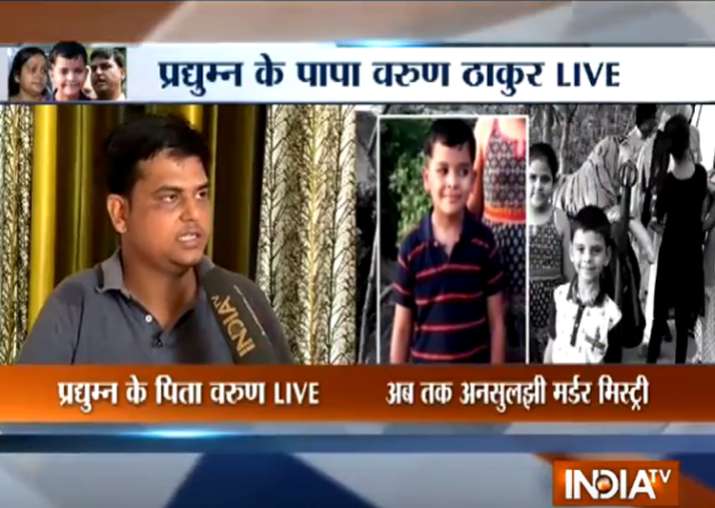 Varun Thakur, father of Pradyuman – who was found dead inside the bathroom of Ryan International School last week, today thanked the Supreme Court for taking up his plea promptly and exuded confidence that justice will be delivered following the top court's intervention.
Speaking to India TV, Varun reiterated his demand that the CBI probe must be ordered to bring all hidden facts to fore. 
"We are now hoping that with Supreme Court's involvement, the probe into the matter will be done in a free and fair manner . Hopeful that culprit will be brought to book," he said.
Raising questions on police investigation, he said, "How can this gruesome killing took place just in 25 minute, there must be a past history… police investigation is okay, what we demand is a CBI probe to unmask all hidden facts." 
"Why was that conductor inside the bathroom, what he was doing there? The intention behind the attack was to ensure he (Pradyuman) is no more… very suspicious… this is why we had approached the Supreme Court and sought court monitored probe by the CBI."
"My daughter, my son never complained about anything… school administration also never had any complaints about our kids," he added.
Meanwhile, a special court here today sent Ashok Kumar, the accused bus conductor, to judicial custody till September 18. 
Yesterday, two senior officials of the school were arrested in connection with the brutal murder of the seven-year-old. 
Police has set up at least a dozen teams to crack the case which has shaken the nation. Parents associations of Ryan International Schools in Mumbai, Delhi, Noida and other places are protesting seeking their children's safety.
The Supreme Court had yesterday issued notice to the Central and Haryana governments on Varun's plea seeking a CBI probe into the September 8 killing. Pradyuman, a class 2 student, was found with his throat slit in a school washroom.
A bench of Chief Justice Dipak Misra, Justice AM Khanwilkar and Justice DY Chandrachud also issued notice to the Union Human Resource Development Ministry and the Central Board of Secondary Education (CBSE) on Varun's plea seeking framing of guidelines for the safety of students in schools.
According to police, they have questioned the school staff even as a separate probe team left for Mumbai to interrogate school CEO Ryan Pinto and director Augustine Pinto.
On the other hand, the Bombay High Court today granted Ryan and Augustine interim protection from arrest till Wednesday. The trustees of the school have filed an application in Bombay High Court seeking anticipatory transit bail to move an appropriate court in Haryana.
Questions have been raised over police investigation as many believe that Ashok has been made a scapegoat and the man's family too claimed he was falsely implicated since he was poor.