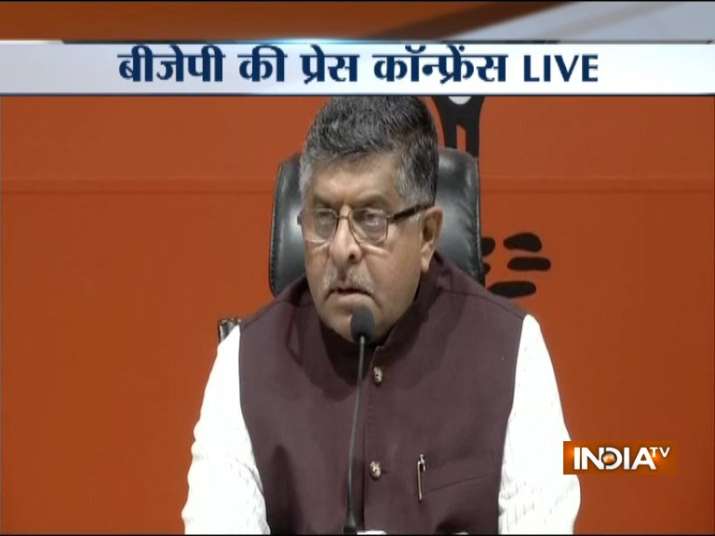 The Bharatiya Janata Party (BJP) on Saturday hit back at Congress President Rahul Gandhi over his allegations on Prime Minister Narendra Modi, in connection with the Rafale deal and former french president Francois Hollande's statement. 
To counter Gandhi's claims, Union Minister Ravi Shankar Prasad held a press conference late on Saturday, and said his comments against the prime minister were "irresponsible and shameful".
"We don't expect any better from a person who has no ability and is placed in politics just because of his family," he said today. 
"Rahul Gandhi has made an irresponsible, shameful statement. Neither people of the country, nor the world is believing these false allegations," he added. 
Earlier today, Gandhi said Hollande called the prime minister a "thief" and that there was "clear-cut" corruption in the Rafale deal. He then asked Prime Minister Narendra Modi to clear his position on the issue.
Gandhi's blistering attack on Modi came a day after former French president Francois Hollande was quoted as saying that the Indian government proposed Anil Ambani's Reliance Defence as the partner for Dassault Aviation in the Rs 58,000 crore Rafale jet fighter deal.
"PM should make his position clear now. He has not spoken even a word on former French President Hollande's statement, who has called the Indian PM a thief," Gandhi had said during the presser. 
Watch Full Video: BJP hits back at Rahul Gandhi, says his statement on PM 'shameful, irresponsible'