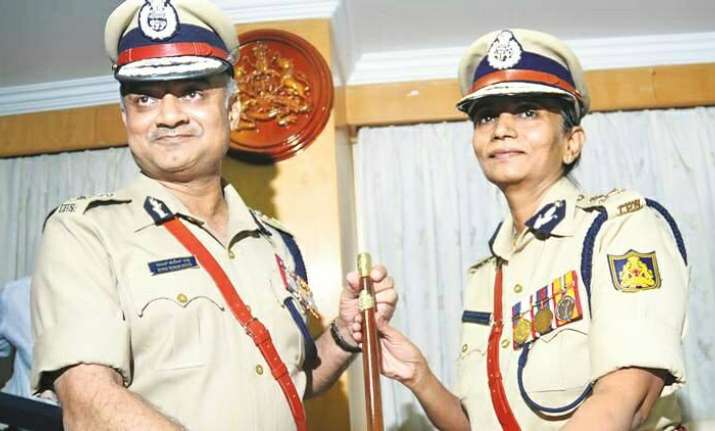 Senior IPS officer Neelamani N Raju has become the first woman police chief of Karnataka. She took charge as Director General and Inspector General of Police (DG-IGP) from incumbent Rupak Kumar Dutta on Tuesday. 
Soon after assuming charge, she said that she wants to make police stations more women-friendly and providing security is her top priority.
Congratulating the officer, Chief Minister Siddaramaiah said, "Congratulations to Karnataka's first woman DG-IGP Neelamani N Raju on her appointment. Wish her a successful tenure in the post." 
Here is all you need to know about first woman chief of Karnataka Police:
1- 57-year-old Raju is a 1983 batch IPS officer. 
2- She replaced incumbent police chief RK Dutta, who retired on Tuesday. 
3- Raju is the senior-most IPS officer of Karnataka cadre. 
4- She was considered an underdog in the race for the post of police chief.
5- According to reports, there were other claimants for the post, but the state government gave preference to the seniority and chose Raju.
6- Raju has served in the Intelligence Bureau under the Union Home Ministry for 23 years.
7- She returned to Karnataka last year and was serving as the director general of the state internal security department.
8- Neelamani Raju hails from Roorkee in Uttarakhand.
9- Her husband D N Narasimha Raju had retired as principal secretary to the chief minister last year.
10- She will serve as the state police chief for over two years and will retire in January 2020.
Challenges before Raju: 
Thanking the government for reposing faith in her, Raju said there were challenges ahead in Karnataka where assembly elections are due early next year. 
She also said 'Tipu Jayanthi', being opposed by the BJP, is a "big challenge" but she was confident of handling the situation. 
The state government is celebrating the birth anniversary of the 18th Century Mysore ruler Tipu Sultan onNovember 10. The move has been opposed tooth and nail by the BJP which sees Tipu Sultan as a "religious bigot" and a "brutal killer". 
She has also vowed to work on Karnataka's relatively low conviction rate of 38 per cent, according to the National Crime Records Bureau's Crime in India 2015 report.
"However, conviction rates are not just based on the police system, although there is a lot that can be improved," she said.
On the issue of gender diversity in the police force,Raju said when she came to the state in 1985 there were only three women officers, including her but there has been a lot of change since then.
"There has been a lot of change, but definitely a lot more has to change because I want the police to be friendly with all citizens," she added.
Raju said her ascendance to the top post has boosted the morale of other women IPS officers in the state.