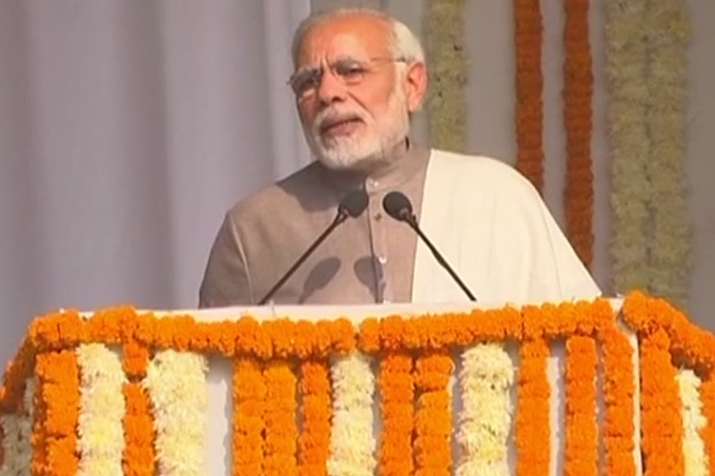 Prime Minister Narendra Modi on Monday inaugurated a segment of Delhi Metro newly-built Magenta Line, which will connect Botanical Garden in Noida to Kalkaji Mandir in Delhi.
Uttar Pradesh chief minister Yogi Adityanath, Haryana CM Manohar Lal Khattar and Delhi Metro Rail Corporation (DMRC) managing director Mangu Singh also graced the event. After the inauguration, all the dignitaries, including PM Modi, took a ride on board the Magenta Line metro.
The 12.64-km section connects Botanical Garden in Noida to Kalkaji Mandir in south Delhi. Modi will also address a public meeting in Noida.
Delhi chief minister Arvind Kejriwal was not present at the inauguration, as he had reportedly not been extended an invitation to the event. 
Here are the highlights:
02:26 pm: I congratulate UP CM Yogi Adityanath for defying superstition and visiting Noida. No CM deserves to take up his post if superstition makes him avoid places in his state
02:25 pm: When I became CM, people told me of a few places where no CMs went because they were inauspicious. I was clear...I would go to all those places in my first year itself. Driven by blind faith and superstition, leaders never went to places for decades. How unfortunate is that: PM Modi
02:24 pm: I am very happy. Due to his dress, few people find it fashionable to believe that CM Yogi Adityanath is not 'modern enough' but it is Yogi Adityanath Ji who has done what CMs of UP never did- he came to Noida. Faith is important but blind faith is not desirable: PM Modi
02:23 pm: I want to congratulate Yogi Adityanath Ji, whose focus on good governance is taking UP to new heights: PM
02:19 pm: Governance cannot happen when the dominant thought process begins at 'Mera Kya' and ends at 'Mujhe Kya.' We have changed these mindsets. For us, decisions are about national interest and not political gains: PM
02:17 pm: Earlier governments took pride in making new laws. We said, we want to be the Government that removes laws that are obsolete. Good governance can't happen when outdated laws hamper decision making: PM Modi
02:15 pm: 
PM @narendramodi taking a ride in Metro from Botanical Garden Station to Okhla Bird Sanctuary along with UP Governor Ram Naik, Chief Minister Yogi Adityanath and other dignitaries after its inauguration, at Noida, Uttar Pradesh. pic.twitter.com/AE6WeMoe9l

— PIB India (@PIB_India) December 25, 2017
02:07 pm: 24th December 2002...Atal Bihari Vajpayee Ji took a ride on the metro. This was a historic moment. Since then, it has been 15 years & the Metro network in NCR has expanded considerably: PM Modi
02:05 pm: Travelling in metro train should become a matter of pride. Then only we can save the nation from problems: PM Modi
02:04 pm: In 2022, when we mark 75 years of freedom, I dream that we live in an India in which our petrol imports reduce. In order to achieve this, state of the art mass transit systems are the need of the hour: PM Modi
02:00 pm: We live in an era in which connectivity is all important. This Metro, whose line was just inaugurated, is not only for the present but also for future generations: PM 
01:57 pm: I convey my greetings on the occasion of Christmas. Today we mark the birthdays of two Bharat Ratnas. One is Pandit Madan Mohan Malaviya and the second, Atal Ji: PM
01:54 pm: UP has nurtured me, taught me everything: PM Modi
01:53 pm: PM pays tributes to Pt. Madan Mohan Malaviya on his Jayanti, wishes Atal Bihari Vajpayee on his birthday
01:49 pm: We should ensure no citizen is unhappy. There is no question of discriminating against anyone: CM Yogi
01:47 pm: PM Modi has given a new meaning to politics of this nation. He is always telling us one thing- we have to move ahead on the path of development: CM Yogi
01:46 pm: This step (inauguration of Metro's magenta line) will prove to be a milestone towards realizing the dreams of development for Noida & Greater Noida region
01:44 pm: Kanpur, Agra to get new metro train service, new airport service in Jewar: CM Yogi
01:43 pm: Dreams of 80 thousand home buyers will come true: CM Yogi  
01:37 pm: I thank PM Modi for inaugurating the high-tech metro train connecting Botanical Garden to Kalkaji Mandir: UP CM Yogi Adityanath
01:12 pm: 
Noida: PM Narendra Modi onboard #DelhiMetro after inauguration of a stretch of the new Magenta line. The line connects Botanical Garden in Noida with Kalkaji Mandir in Delhi. pic.twitter.com/oEzY4f66wi

— ANI (@ANI) December 25, 2017
01:07 pm: 
Noida: PM Narendra Modi inaugurates a stretch of the new Magenta line of the #DelhiMetro. The line connects Botanical Garden in Noida with Kalkaji Mandir in Delhi. pic.twitter.com/d1K7l1URmM

— ANI (@ANI) December 25, 2017
12:47 pm: PM Modi's helicopter lands in Noida
In view of the scheduled event and movement of top dignitaries, traffic has been halted in various areas. Noida Traffic Police issued an advisory for commuters in the area.
During the initial hours of the day, the road between Botanical garden bus stand and Attar Chawk will remain blocked. Commuters will have to take a diverted route from Shashi Chawk through Nithari Hospital to reach their destinations. Similarly, traffic movement will be restricted in Noida sector 94, 124, 125 and 126 in the day.
Entry of heavy vehicles will remain suspended in the area from 7:00 am to 11:00 pm on Monday.
Recently, a metro train of the Magenta Line crashed into a wall at Kalindi Kunj depot after it rolled back on a ramp while being taken for washing. 
There were no casualties, according to the Delhi Metro Rail Corporation (DMRC) which had blamed the incident on "human error and negligence" during maintenance. 
DMRC had also asserted that it would have no bearing on the launch. 
Following the incident, the Delhi Metro had suspended four officials, including the in-charge of the Kalindi Kunj depot. 
The official statement further said that the prime minister has often used the metro to travel for engagements in the National Capital Region. 
In January 2016, the prime minister and the then French President Francois Hollande travelled in metro from Delhi to Gurgaon to jointly lay the foundation stone of the headquarters of the International Solar Alliance. 
More recently, in April 2017, Modi and his Australian counterpart Malcolm Turnbull travelled by metro to the Akshardham Temple. 
"In keeping with the objective of enhancing connectivity through mass rapid transit systems, the union government has launched nine metro projects covering a stretch of nearly 165 kilometres over the past three-and-a-half years. 
"Five new metro rail projects covering a total length of over 140 kilometres have been approved. Metro lines of around 250 kilometre length are proposed to be commissioned over the next two years," it added.