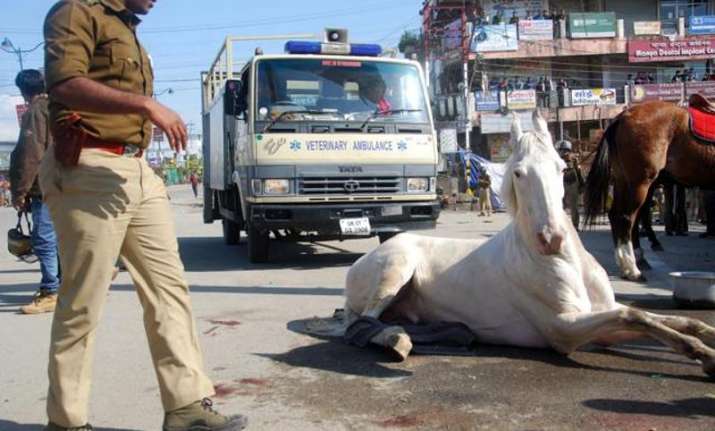 New Delhi: Shaktiman, the police horse which suffered multiple fractures on its left hind leg after being brutally attacked by BJP MLA Ganesh Joshi, underwent an amputation surgery, said the Uttarakhand police on Thursday evening.
The horse's amputation surgery took place two days after its fractures were fixed by external fixation by a group of 10 doctors, six from Pantnagar and four district veterinary officers.
"The surgery was conducted after the doctors said that the horse wouldn't be able to survive due to gangrene (decomposition of body tissue)," said Uttarakhand DGP BS Sandhu.
"The doctors diagnosed that the blood supply to injured portion had stopped because of which the injured leg needed to be amputated," he added.
Earlier in the day, the Dehradun Police informed that the condition of police horse 'Shaktiman', had deteriorated.
The animal welfare group, PETA, had written to BJP president Amit Shah and Uttarakhand Assembly Speaker Govind Singh Kunjwal urging them to investigate the matter and disqualify Joshi.
The Dehradun Police had on Sunday registered a case against BJP MLA Ganesh Joshi for beating a police horse, reportedly breaking one of its legs, during a protest against Uttarakhand Chief Minister Harish Rawat on Monday for "misuse" of funds.