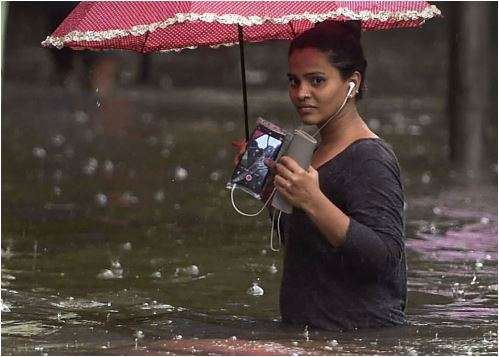 Rains continue to lash Mumbai and surrounding areas. Monsoon arrived late in Mumbai but it poured on arrival and how.
Heavy rains ensured that the delay for well compensated for. In two days, heavy showers ensured that 97% of required rainfall in the month of June was covered in just two days.
Heavy rains in the catchment areas has meant that water levels in dams that supply water to Mumbai, Navi Mumbai and Thane are rising.
Here are the LIVE updates of Mumbai rains:
6:10 pm - Andheri Subway closed due to water logging
Andheri Subway has been closed due to water logging & traffic has been diverted via Gokhale bridge and Thackeray bridge #TrafficAlert #MumbaiRainsLiveUpdates #MumbaiRains #MumbaiRainsLive

— Mumbai Police (@MumbaiPolice) July 1, 2019
5:51 pm - Yuva Sena president Aditya Thackeray urged the Mumbaikars to trust the Brihanmumbai Municipal Corporation (BMC) and tweet to them in case of any emergencies or assistance.
It's raining heavily. But @mybmc is a tweet away. Tweet to them for any assistance/ emergencies

— Aaditya Thackeray (@AUThackeray) July 1, 2019
5:28 pm - The Meteorological Department warned of "extremely heavy" rainfall in adjoining areas of Thane and Palghar on 2,4 and 5 July. 
5:14 pm - Rains continue to pour in Mumbai. Showers have one again begun in Kurla East. 
#MumbaiRains to continue lashing the city. Showers have once again begun in #KurlaEast. #MumbaiRainsLive https://t.co/jNTtBiB4Gz

— SkymetWeather (@SkymetWeather) July 1, 2019
4:52 pm - Water logging & traffic jam in Navi Mumbai 
Maharashtra: Water logging & traffic jam in Navi Mumbai following heavy rains in the city. #MumbaiRains pic.twitter.com/KtlPfy5eOA

— ANI (@ANI) July 1, 2019
4: 40 pm - Latest updates from Western Railways
To facilitate psngrs of 12921 Flying Rani & 59023 Mumbai Cntrl-Valsad Fast Psnger wch are cancelled, additional stoppages hv been provided to 22955 Kutch Exp wch will stop at all halts where 59023 halts upto Valsad & at all halts of 12921 bet Valsad & Surat. @drmbct @RailMinIndia

— Western Railway (@WesternRly) July 1, 2019
4: 02 pm - Central Railway officials monitoring and supervising the situation as Mumbai is hit by heavy rains.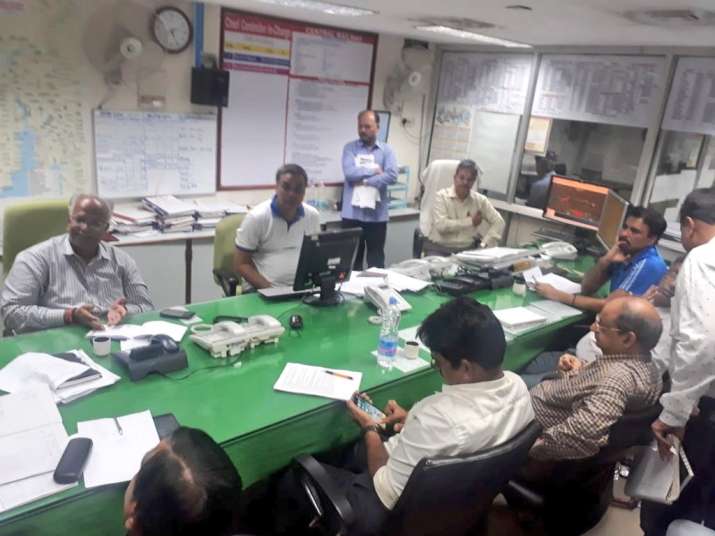 4:00 pm - Waterlogging on Sion Panvel highway near Nerul in Navi Mumba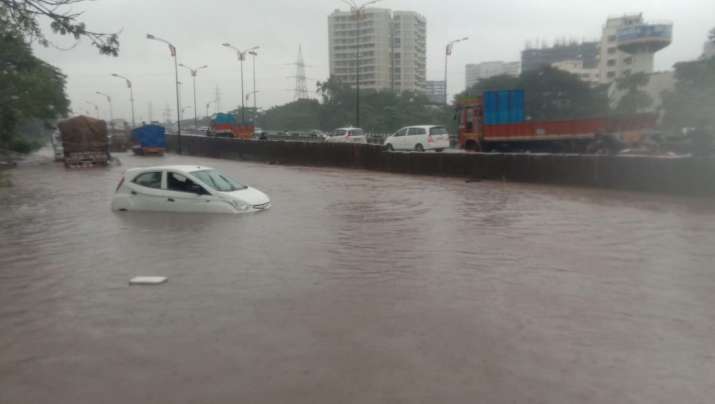 2:50 pm - Water yet to recede from Tulsi pipeline in Matunga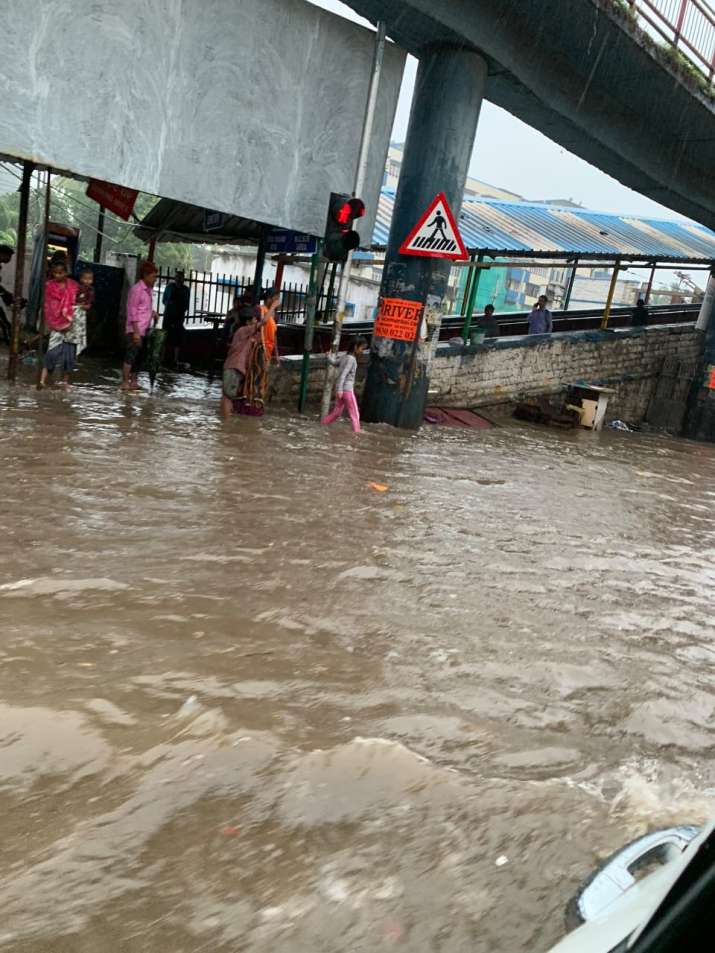 Matunga is one of the worst-hit areas when it comes to waterlogging. Above is a photo outside Matunga Road station where residents are still having to wade through water.
2:35 pm- Railway tracks in Sion still submerged
Railway tracks near Sion on central line are still submerged under water. Trains are moving very cautiously. It is a challenging task for railway motormen to drive trains when they cannot see the tracks. It is the skill of these motormen that keeps Mumbai going.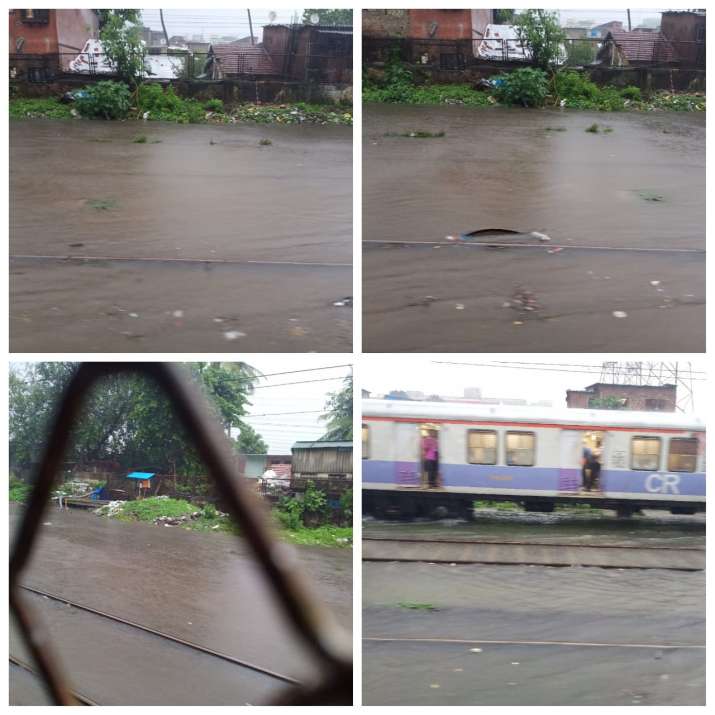 2:00 pm - Rainfall in Mumbai till 12 pm today
Average: 70 mm
Sion: 70 mm
Matunga:  55 mm
Dadar: 60 mm
Mulund: 70 mm
Ghatkopar: 30 mm
Kurla: 80 mm
1:48 pm - BMC publishes tweets of big-hearted Mumbaikars who offered food, place to stay for those stranded due to rains.
Heroes of Mumbai step up every time the city needs them.

This monsoon, we're setting up a ward-wise list of all #RainHosts so that we can help the city better together.

All interested, may please tweet & share details at MCGMRainDost@gmail.com to be Mumbai's #RainDost pic.twitter.com/tUHd6TVZLg

— माझी Mumbai, आपली BMC (@mybmc) July 1, 2019
1:39 pm - Here are more train updates on suburban local trains and shuttles
MEMU passengers please note.

69164 Dahanu Road-Panvel MEMU & 61003 Vasai Road-Diva MEMU are cancelled by Western Railway.

As such connecting trains 61004 Diva-Vasai Road MEMU and 69165 Panvel-Vasai Road MEMU of 1.7.2019 are also cancelled. pic.twitter.com/yBfFRbUvss

— Central Railway (@Central_Railway) July 1, 2019
1:22 pm - Mumbai  Rain Live Updates: Two long distance trains rescheduled 
                 Heavy rains in Mumbai and surrounding areas especially Palghar, have affected movement of long distance trains. In its latest bulletin, Western Railways has announced rescheduling of two long-distance trains leaving from Bnadra Terminus.
06922 Bandra Terminus-Jaipur
Original departure time: 0615 hours on July 1
Rescheduled time: 2255 hours on July 1

22451 Bandra Terminus- Chandigarh
Original departure: 1215 hours on July 1
Re-scheduled departure: 1535 hours on July 1
#WRUpdates. Passengers may kindly note further rescheduling / short termination & change in departing/originating station of trains due to heavy water logging on tracks at Palghar in morning hours. pic.twitter.com/5WBiuK2K06

— Western Railway (@WesternRly) July 1, 2019
12:45 pm: Mumbaikars open their hearts as heavens rain on them
                 Whenever tragedy strikes, Mumbaikars stand together. Water logging is a yearly, recurring issue but what is also on display each year is benevolence of citizens as they open doors to provide food and shelter to those stuck due to rains. Mumbaikars have started making such appeals.
Hello! If you are anywhere around VileParle(e) and stuck in #MumbaiRains then I can offer you food, shelter, wifi & furry friends company. Just a DM away! #MumbaiRainsLive

— मेहुल गोहिल =) (@mehulgohil) July 1, 2019
12:42 pm- Along with Mumbai, surrounding area face the wrath of rains as well
                  Rains are lashing Thane District as well. Thane is adjacent to Mumbai.
#WATCH Maharashtra: Waterlogged streets in Bhiwandi area of Thane after heavy rains lashed the region. pic.twitter.com/gBnxXitRiV

— ANI (@ANI) July 1, 2019
12:38 pm: Here are glimpses of the roaring Arabian Sea
                  Marine Drive is one of the favourite spots of Mumbaikars to hang out during the rainy season. However, its always dangerous to enter the waters. Here are some glimpses of roaring waters of the Arabian Sea.
#WATCH High tides at Marine Drive. #MumbaiRains pic.twitter.com/WywtefEzro

— ANI (@ANI) July 1, 2019
12:35 pm - Although sea water has started receding after high tide. Next few hours are crucial for Mumbai if it continues to rain. Tides of the Arabian Sea have a great impact on Mumbai's drainage system. If sea water rises, the drainage system cannot drian the water our in an effective manner.
12:28 pm - Rains and water logging at different places in Mumbai have begun to have a great effect on the city. There is traffic jam on Eastern Express Highway and Eastern Freeway.
11:21 am - Need help? These are the helpline numbers
These are corrected help desk numbers for Passenger enquiry due to waterlogging at Palghar station. @WesternRly pic.twitter.com/d4YvatVhSb

— DRM WR MumbaiCentral (@drmbct) July 1, 2019
10:58 am - Mumbai rains affect flight operations
                   After trains, the rains have affected flight operations as well. There is a delay of 25-30 minutes in flight operations at Mumbai airport.
10:52 am - Mumbaikars vent anger against government on Twitter
                   Mumbaikars are angry, and rightly so. All they want to do is to commute to their workplace safely. Each year, authorities claim that Mumbai will be ready to face Monsoons, but all claims fall flat. People are tired and are venting their anger against the authorities on social media.
#MumbaiRainsLive Mumbai paralyzed by water logging same story every year. #MCGM and State Government have no answers except pointing fingers at each other. Despite collecting taxes under every pretext common man affected. #BMC @mybmc @bmcmumbai pic.twitter.com/2FiQUKRviW

— ishu_with_no_issues👸 (@ishikakapadia) July 1, 2019
10:42 am-  Water starts filling up in low lying areas of the city
                   Heavy rains are causing water logging in low lying areas of the city. Here are images outside Matunga Police Sattion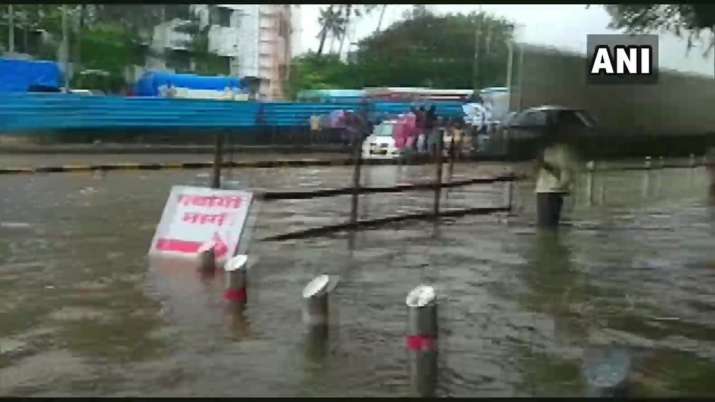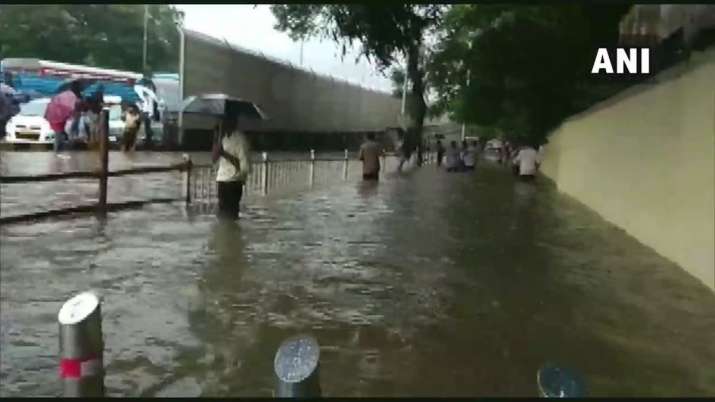 10:40 am - India Meteorological Department has said that heavy rains are likely to continue in Mumbai, Thane, Raigad and Palghar for next one hour. 
10:22 am - Western Railways scrambles to repair overhead wire damage at Marine Lines
                  Overhead wires at Marine Lines station got damaged this morning as material from nearby construction fell on them. Western Railways has scrambled resources to repair the damage especially in view of heavy rains and office rush in the morning.
Western Railway: Restoration work on slow lines is in full swing after the material viz bamboos of ongoing construction work fell on Over Head Equipment at Marine Lines, due to heavy winds. Trains on both the fast lines working between Churchgate-Mumbai Central. pic.twitter.com/Us9mx24Z3p

— ANI (@ANI) July 1, 2019
10:18 am - Water logging affects local trains
                   Local trains are moving slowly due to heavy rains and water logging. Central Railways has appealed people to remain calm.
Central Railway CPRO: All lines on Central Railway main line are operational now. However, due to bunching of trains, the bunched locals are being gradually cleared. Please don't panic. Inconvenience is deeply regretted. pic.twitter.com/Y1wzlhXNhB

— ANI (@ANI) July 1, 2019
9:12 am - 13 trains cancelled due to water logging on tracks in Palghar
Western Railway PRO: Due to very heavy rains in Palghar during night, 13 trains have been cancelled, today. After receding of water, train movement at Palghar was started at 8.05 hours at restricted speed of 30 kmph in view of safety. pic.twitter.com/R7VGydwZG9

— ANI (@ANI) July 1, 2019
8:35 am - Senior officers monitoring the situation: Western Railways
Railway tracks in Palghar near Mumbai are submerged under water. This has started affecting trains on western line. Western Railways have said that senior officers are monitoring the situation and efforts are on to resolve problems.
8:27 am - Heavy rains at Palghar near, Mumbai have started to have an effect on trains. Palghar station comes under Western Railways. Here is the list of trains that have been cancelled/ short terminated.
Western Railway: Heavy water logging reported on tracks at Palghar at about 4.30 hrs due to incessant rains during the night. 12009 Mumbai Central - Shatabdi Express has been put back for one hour ex Mumbai Central as of now. Following Trains have been cancelled /short terminated pic.twitter.com/hri7WwOMOZ

— ANI (@ANI) July 1, 2019
7:38 am - Heavy showers in the early hours of Monday caused waterlogging
Maharashtra: Water logging at Sion circle in Mumbai after heavy rainfall in the city. pic.twitter.com/pQ4bElxjwO

— ANI (@ANI) June 30, 2019