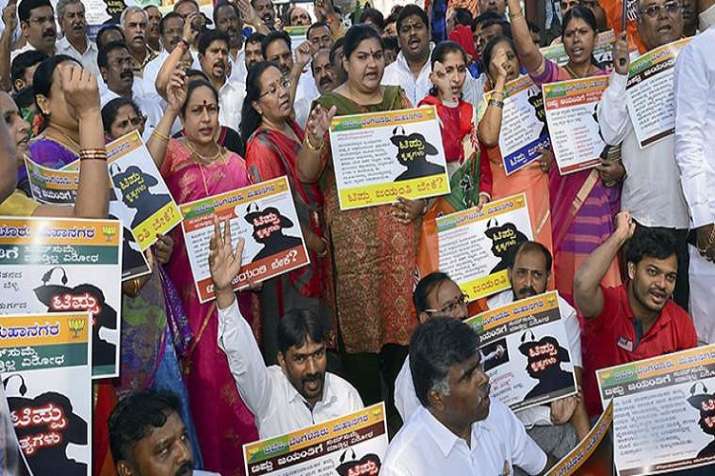 Karnataka government will celebrate Tipu Jayanti across state on Saturday. Security has been tightened in many areas ahead of the celebrations with the BJP warning of protests across the state. Meanwhile section 144 has been imposed in several places including Kodagu, Hubli and Dharwad cities from 6 am on November 10 to 7 am on November 11, news agency ANI reported.
Earlier in the day, the BJP staged protests asking the authorities to drop the event. The protests were held at several places including Bengaluru, Mysuru and Kodagu.
The protests were organised after the JD(S)-Congress government in the state announced the celebration of Tipu Jayanti on November 10  in continuation of the previous Congress government's policy. However, Chief Minister H D Kumaraswamy will not be attending the Saturday event. The Chief Minister's Office in a statement said that Kumaraswamy would not take part in any official function for the next three days in view of "doctors' advice."
"On the advice of doctors, the chief minister will take three days rest till November 11. He will spend time with family on these days and there will be no official engagements on these days," the communique said. Minister for Minority Welfare, Haj and Wakf B Z Zameer Ahmed Khan said the chief minister had told officials beforehand that he would be away for medical check-up and hence, his name should not be mentioned in the invitation, PTI reported.
The event in Bengaluru will be held at the Vidhana Soudha, the seat of the state legislature, as the original venue, in view of representations to the government from Muslim community leaders, PTI reported. The celebrations were first started by the Siddaramaiah government in 2015  amid stiff opposition by the BJP, several Hindu organisations and some individuals.
While Tipu Sultan is considered a freedom fighter by the state government, he is considered a religious bigot by the BJP and its affiliates. The Tipu Jayanti celebrations, which began in 2014 under the Congress government, has been marked by protests and court cases every year.
In 2015, Hindu outfits opposed to the celebrations clashed with Muslim groups who took out a rally to Madikeri town in Kodagu district. The clashes resulted in two deaths.
The celebration of Tipu Jayanti is particularly opposed by people from the Kodagu region of Karnataka citing incidents of violence that occurred in Kodagu in 2015 during celebrations and the historical animosity among the people of the region towards the 18th-century ruler.