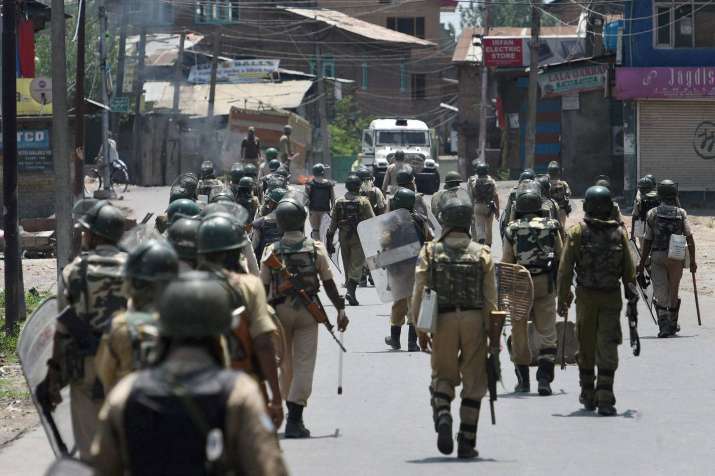 Citing Home Minister Rajnath Singh's statement made in Parliament, Jammu and Kashmir High Court on Saturday said that the state government should discontinue use of pellet guns for crowd control during law and order situation.
"The (Union) Home Minister has said in the Lok Sabha that an expert committee will be framed to find substitutes to pellet guns. This statement should be sufficient for the government to discontinue the use of pellet guns," a division bench of the court said here while hearing a PIL.
The bench comprising Chief Justice N Paul Vasanthakumar and Justice Muzaffar Hussain Attar said Singhs statement also meant that the pellet guns were "not non-lethal".
The Home Ministers statement meant that in Kashmir it is not non-lethal weapon, the court said, adding the procedures have to be reasonable, fair and just.
The HC also court directed the government to provide necessary treatment to all those injured in the ongoing unrest and shift those, who need specialized medical attention, out of the state.
"Ensure that treatment is provided to the patients. Shift those who need specialized treatment," it said.
Observing that "when a person loses his eyesight, he loses everything, he loses universe", the division bench said, "No sensitive soul can bear looking at these pictures (in a newspaper of a minor boy injured in security forces action). He is a five-year-old child. You cannot accuse him of throwing stones".
The court also asked the the government not to interfere in the working of voluntary organizations which were helping people.
"These are highly abnormal times for the people of Jammu and Kashmir. You should not stop the voluntary organizations.
"Please do not do it. You must encourage them. Please also do not interfere with the working of NGOs who are distributing medicine to the people," the court said, asking the government to ensure opening of medical shops even in night hours.
The court also asked the government to provide relaxation in the curfew at least in certain peaceful areas. "It has been 14-15 days. For how many days can you shut the doors? There must be some relaxation, at least in some peaceful areas.
 
"The other day, they announced relaxation but some unwise people advised you otherwise. They are making their own people suffer. Have some wise people who can advise the government," it said.
The division bench said the government must also ensure everybody gets ration and other essential items.
"People should not suffer," it said.
The court also asked the Jammu and Kashmir Bank to keep open its ATMs and branches so that people can avail the facilities.
"You have your (security) protection and you can also approach police (for protection) if there is need," it said.
The government has come under strong criticism for the use of pellet guns for mob control in Kashmir. Rajnath Singh today on July 21 announced that the government would look at other non-lethal alternatives as "we all feel sad" over the loss of lives and injuries in the valley.
Replying to a debate on the Kashmir unrest in Lok Sabha where many members expressed concern over the injuries caused by pellet guns, he said an expert committee will be set up to recommend alternatives to pellet guns and it will submit its report in two months.
"We will form a committee of experts. It will see to it what non-lethal alternatives we can bring in place of pellet guns. It will give report in two months," he said.
He said these guns, categorised as non-lethal, had not been used in Kashmir for the first time as they had been used earlier in 2010 when six people had been killed by these and 98 had sustained eye injuries, with five suffering complete blindness.
Singh rejected criticism that security forces used pellet guns indiscriminately but at the same time said it cannot be denied that someone might have committed some mistakes.
(With PTI inputs)