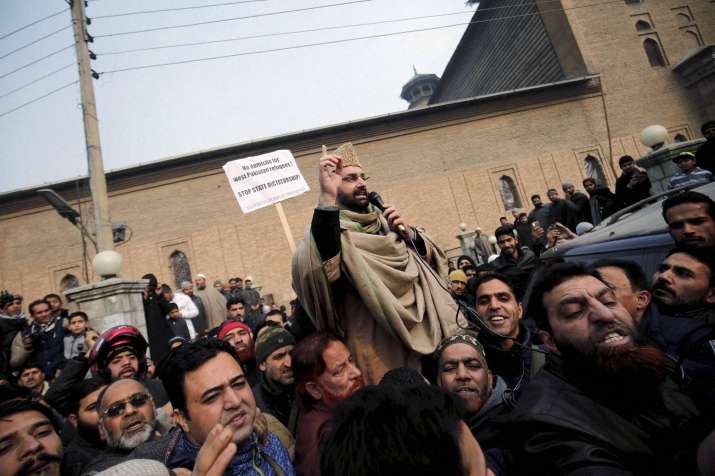 The authorities have reduced by half the security cover given to separatist leader Mirwaiz Umar Farooq. The moves comes in the wake of the lynching of Deputy Superintendent of Police Mohammad Ayoub Pandit on June 23 in the Nowhatta area near Jamia Masjid, where the separatist leader delivers sermons on Fridays and other important religious days. 
The number of security personnel given to the Mirwaiz, the chairman of the moderate Hurriyat Conference, has been reduced to half, from 16 to 8, sources in the security wing of the police said today. 
They said the process of downgrading the Mirwaiz's security had started on June 29, six days after the DSP was stripped and stoned to death after he was caught allegedly clicking pictures of the people coming out of the mosque after 'Shab-e-qadr' (the night of power) prayers. 
A Dy SP-rank officer deployed as personal security officer of the Mirwaiz was withdrawn on June 29 and no replacement was sent, the sources said. The Mirwaiz was accorded 'Z' category security cover after Hizbul Mujahideen militants shot dead his father, 

Mirwaiz Molvi Mohammad Farooq, at his residence in 1990. 
Confirming that his security cover has been downgraded, the Hurriyat chairman said he had never asked for it and the government was at liberty to remove all the police personnel guarding him. 
"When my father was martyred under a deep conspiracy, our family shifted to Rajouri Kadal for some time. On our return to Nigeen residence, police personnel had been deployed there," the Mirwaiz told PTI. 
He said when his family resisted the deployment of security personnel, they were told that the police cover will not be removed "as it is not a matter of our (family's) choice but based on the government's decision on their assessment of a threat perception to me". 

Senior police officials were not available to comment on the issue. 
The lynching had triggered an outrage in Kashmir and had drawn all-round condemnation. So far, five of the 12 people identified by the police for their alleged involvement in the killing, have been arrested.