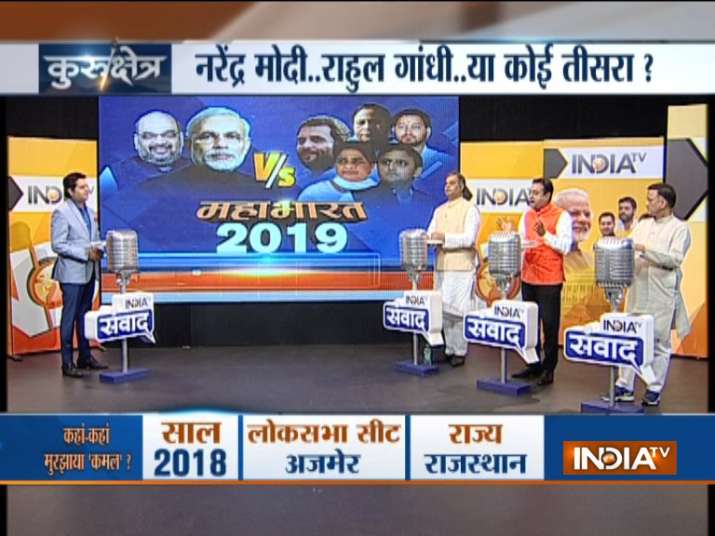 Will the 2019 Lok Sabha elections be a battle between Narendra Modi and united opposition? The recent bypoll results have given an indication that the opposition parties will try to make a united front to defeat the Bharatiya Janata Party as they did in Phoolpur and Gorakhpur Lok Sabha bypolls a couple of months back and recently in Kairana Lok Sabha by-elections and Noorpur assembly bypoll in Uttar Pradesh.
The united opposition comprising of SP, BSP, RLD and Congress, joined hands and defeated the BJP in recently-concluded bypolls in Uttar Pradesh.
It is less than one year before the dance of democracy will commence (General Elections 2019). This victory has given a shot in the arm to the combined opposition parties (Congress, SP, BSP and RLD). Undoubtedly, it has become a fight between Prime Minister Narendra Modi Vs the rest. However, who will have win the battle only the results of the General Elections will tell.  
In a major setback to the ruling BJP, opposition parties on Thursday emerged victorious in 11 out of 14 bypolls, restricting BJP and allies to just three seats.
The BJP suffered another setback in Uttar Pradesh after the recent  losses in Gorakhpur  and Phulpur parliamentary bypolls as the RLD, backed by the SP, BSP and Congress, snatched the prestigious Kairana Lok Sabha seat from the saffron party.
WATCH IndiaTV Exclusive: Will 2019 Lok Sabha elections be battle between Modi and united opposition?
The opposition leaders latched onto bypoll results across 11 states to claim sliding popularity of the Narendra Modi-led government. However, the BJP asserted that the PM- which it described as 'P' for performance and 'M' for Mehnat (hard work) -- would decide the Lok Sabha polls next year. 
The BJP lost the two sitting Lok Sabha seats- Kairana and Bhandara-Gondiya. However, the BJP retained another LS seat from Maharashtra, Palghar, where it had faced its own ally Shiv Sena but the Opposition could not put a united fight. BJP's Rajendra Gavit won the seat, defeating Shiv Sena's Shrinivas Wanaga. 
While the LS bypoll results were equally divided at 2-2 between the BJP-led alliance and the opposition parties, figures for the 10 assembly bypolls came as a big setback for the ruling party which could win just one (in Uttarakhand). 
The Congress bagged three (in Meghalaya, Karnataka and Punjab) and others got six—JMM two in Jharkhand; CPI (M), SP, RJD and Trinamool one each in Kerala, UP, Bihar and West Bengal, respectively. 
The Congress also won one assembly seat in Maharashtra without contest after all other parties withdrew their candidates. 
The party, which retained RR Nagar assembly in Karnataka and another in Meghalaya, termed the bypoll results as the people's mandate against four years of the Modi rule and the beginning of the end of the BJP empire.